TORONTO - His "pinseria" is the only one certified in Toronto, and one of the two in Canada (the other one is in Ottawa). And, all over the world, there are just 130 places that can boast this recognition. A prestigious recognition, given by the Opr (Original Roman Pinsa) Association only to those who offer their customers the original product, rigorously made with high quality products as the flour produced by Corrado Di Marco, creator of this particular "dish" which is really appreciated wherever it is proposed.
Gino Benevenga, born in 1958 in Palomonte, a town in the province of Salerno on the border of the Cilento, Vallo di Diano and Alburni National Park, Italy, has been in Canada for forty years. After a lot of work behind bar counters and restaurant tables, he had the intuition to open a "pinseria" in Toronto. And, thanks to his very long experience, he has hit the mark: people love his "pinsa" and he goes on even though Covid-19 has forced him, in recent months, to limit himself to takeaway sales. "It's hard, but I don't give up," he proudly tells us on the phone. From the way he talks, you feel the passion for his work. A passion that comes from far away.
When did you start working in the restaurant business?
"I was 16, I was still in Italy and I was already working in restaurants in Agropoli, Battipaglia... even on the Amalfi Coast. Then, at 18, I moved to England where I continued to do the same job. Finally, at 22, in 1980, I decided to join my uncle here in Toronto. And I continued to work in catering".
And then you decided to open your own place ...
"Yes, six years ago, at 3076 Dundas Street West. Initially, the restaurant was called Junction Local and we specialized in smoked meats and craft beers. All very 'Canadian'. After four years, we decided to focus on something more Italian and original but I didn't want to limit myself to the classic pizza, which everyone here offers. So I attended a course for roman 'pinsa', held by the official instructors of the Opr association who came specifically from Italy, I obtained the certification and I called the place 'Venga Cucina': in Toronto we are the only ones to offer 'pinsa' and in all the Canada there is only one other venue, in Ottawa ".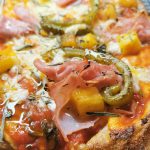 What is a 'pinsa'? Is it so different from pizza?
"Completely different. It needs pre-cooking, a specific type of flour must (the one created by Corrado Di Marco, the 'father' of 'pinsa') which is a mixture of rice, soy and wheat flour. It must be fragrant and digestible. And it is stuffed with creativity. For example, we take inspiration from southern Italian cuisine and the typical dishes of Campania and Southern Italy".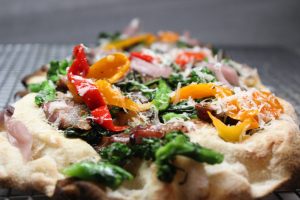 Which is your top-pinsa?
"The most popular is the one with tomato base, Calabrian nduja and peperonata. But customers also ask us for special combinations: here in Toronto, for example, they like the one with pineapple (in the pic on the left) and we add tomato sauce, cooked ham, mozzarella and grilled green peppers. And then we have our 'workhorses' such as the 'pinsa giardiniera' (grilled vegetables with freshly grated Pecorino Romano on top, in the pic on the right) and the brand new 'Umbria pinsa' with pork filling, grilled radicchio, rapini, peppers and onion marinated in white balsamic vinegar, provolone 'Auricchio' and various spices (in the pic on the top). Note that almost all the fillings are pre-cooked, so you avoid serving a... shower".
How do you do it now with Covid-19?
"Eh, it's a mess. We only do takeaway sales. But let's not give up: after all these years of sacrifices, we must and we want to resist. Fortunately, I have a great deal of 'frontline' experience in catering. And then there is the passion for this job. I go on". Gino is the typical tenacious Italian with a big heart. Passionate about bicycles, a few years ago he made a bet with his employer at the time: from Toronto to Niagara Falls, round trip (300 kilometers), by bike, in twelve hours. He won it. "At stake - he tells us - there were 5 thousand dollars: I donated them to associations for sick children". And do you think the virus can stop him?
In the pic below, "Venga Cucina" 's  staff (Danny, David, Gino, Mary and Chris) with some 'pinsas'