PIETRASANTA – His roots lie in the land of artists, where the mountains are made of marble and the plain is full of sculpture workshops: Pietrasanta, the Tuscan town that also hosted Michelangelo Buonarroti. Marcello Giorgi was born there, 59 years ago. But like any great artist, he is a citizen of the world. And so he lives in Montreal, his works are scattered throughout North America (and beyond) and it is there that today he transmits his knowledge to others, especially young people, teaching in schools and holding art courses.
His deep knowledge began when, as a child, he spent his days playing with clay in the Pietrasanta sculpture workshops. Then, at the age of sixteen, his first job as a worker in an artistic foundry, the Claudio Mariani Foundry, his studies at the "Stagio Stagi" Art Institute and, ten years later, the meeting with a great contemporary artist, Igor Mitoraj. "He asked me to become his assistant - says Giorgio - and for three years I refined my knowledge of classical sculpture. Every day, after work, at home, I continued to draw and practice his teachings, often until late at night ".
A decisive experience, which led him to found his own sculpture workshop in 1991. "From that moment, I started collaborating with some of the greatest contemporary artists". Then, in 2014, the first works and exhibitions for North America and, two years later, the "big leap" with the move to Montreal, which has become the main center of his artistic production and teaching activity.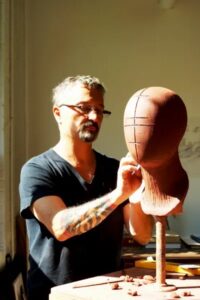 "In the United States - Marcello (in the pic) explains - there is a great desire to make art. The mentality is open, there are many capable artists and a lot is invested in public works: that's where I found my contracts for public and private commissions. Arriving in Montreal, on the other hand, I felt that there was a void that had to be filled: there the pictorial tradition developed more, in particular the school of Murals, and there is less interest in sculpture, in the classical tradition that it had great influence between '800 and' 900 but then it was lost. So I felt the duty, a bit like a pioneer, to bring and share with the local artistic community precisely that classical tradition with which I grew up, and I must say that in recent years the interest in my sculpture courses, which I keep regularly both at the Fine Art Museum and in some private schools, it has grown more and more: my courses are always full with students on the waiting list".
What differences have you noticed between being an artist in Italy and being one in Canada?
"The difference between being an artist in Italy and Canada, speaking of sculpture, lies in the fact that Italy is the natural home for every artist: you live in the midst of art, you breathe art in every place, you are confronted daily with different schools of thought. Italy is the crossroads, the meeting point for thousands of artists from all over the world. Being artists in Italy is like being fish in the sea, you feel in your natural environment. In Montreal, however, there is still a great deal of work to do and I feel the great desire to share my experience as a sculptor and the classical tradition with others. I feel in my students the desire to learn and often the local artistic associations organize evenings where they ask me to talk about Pietrasanta and my history as a sculptor ".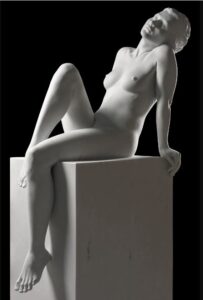 Which of your works made in North America are you most fond of?
"The one I care about most is 'Nostra Luna' (in the pic above), for the Fine Art Museum of Montgomery, in collaboration with a local artist, Craigger Browne: we represented, on local marble, the twinning between Pietrasanta and Montgomery. Another is 'Intimità', a marble exhibited in the Forest Lawn park in Los Angeles where there is also 'Eva sul Cubo' (in the pic here), exhibited in the same park ".
Is it difficult today to live on art?
"For many years I have been a craftsman, that is someone who performs works on commission, governed by a basic idea of ​​who requests those works. The artist works freely, following only his creativity. It was only at the age of fifty that I had the opportunity to free myself from the role of artisan and only at that point did I begin to live my art freely. Living in art is not difficult, but it is hard daily work: it may take years to see results, it is a job that requires dedication, tenacity, sometimes sacrifices, but what it gives you in return is the most absolute joy: when you see your work that makes people think, or that excites them, you have reached your goal. Each sacrifice has passed and is largely rewarded. Because living on art has nothing to do with success or money: it's a matter of the heart. Of love".
More here: https://marcellogiorgi.com/
Watch the video: Signature Sculpture Course - Sculpt with elegant precision - Marcello Giorgi Sculptor