HAMILTON - Her stage is the kitchen. It is there that, in front of the camera, Deborah Verginella prepares one dish after another, merging the two passions of her life: acting and cooking. Two arts so different from each other, but with Deborah they become one, thanks to a secret recipe that only she knows and which, perhaps, is the result of her Italian origins.
For many years, she was a - successful - actress for cinema and theater, today she is the executive chef and manager of Miele Gallery Caplan's, Robert Caplan's store, where the chef cooks with the appliances that customers are buying. And Deborah's creations behind the stoves of the store between Weston Road and Eglinton Avenue West are very popular on Instagram, where videos of the preparation of the dishes are also published. Dishes that often have the flavor of Italy.
Deborah, are you Italian?
"I was born in Hamilton, Ontario. My mother is from Monfalcone, near Trieste (Friuli Venezia Giulia)and my father was born in Grado, but grew up in Monfalcone. My parents knew each other since they were children".
How did your family get to Canada?
"My father at age 21 was selected to study in the United States as part of the Marshall Plan and he arrived in NYC, then went to Harvard and Toledo Universities to study as part of that intiative. My parents still live in Hamilton and I'm so lucky they are in good health at 87 and 91!"
How and when did you start acting?
"I really have always had two great passions from my youth: acting and cooking. I acted from a very early age all through school, including my undergraduate years at Trinity College, U of T. I was surrounded by some pretty amazing people, including Atom Egoyan, whose first short film was screened at the college. And so I decided to audition for theatre school after I graduated with my BA. I left for San Francisco and studied at the American Conservatory Theatre. One of my seminal influences was my Master Acting Teacher, the great Anna Deveare Smith (a "MacArthur" fellow, to name one of the many awards she has received). Her artistic practice opened up a new world for me. When I came home I auditioned for an experimental group called DNA Theatre and stayed with this ensemble as we created a nine hour multidisciplinary 'Hamlet' and the first show about AIDS, called 'SICK'. But In all this, I cooked! I cooked for my acting teachers, my fellow flatmates, shopped in the lush and revolutionary landscape of California growing seasons, was exposed to the ideas of Alice Waters just over the bridge".
Do you have movies or plays planned in the future?
"HAHAH no! Just my cooking videos, so you can say they are similar to being in a play. I am in the best job because both my passions are fulfilled. I cook and create and I have my own stage where I hold events and now, with the lockdown, daily zoom classes- so you can say I am always on camera..."
When and why did you specialize in cooking?
"It is so banal, and my husband will ROLL his eyes when i say this (he says every chef credits his nonna or mamma), but he is milanese and a part of the Italian Canadian experience is the formation of an identity at the hem of who is cooking at home.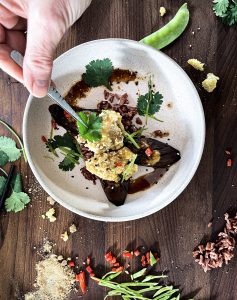 In my case, I had my nonna Tonet in Italy who came thirteen times to Canada and was full of flourish and drama and threw together pastry without weight or measure, my nonna Verginella, who lived with us and was quite the opposite - a low key and humble woman who introduced me to the pleasure of cucina povera (brodetto di pesce, polenta e latte, gnocchi di pane) but who nonetheless experimented with our multiethnic neighbours. And of course, my mother, Rita.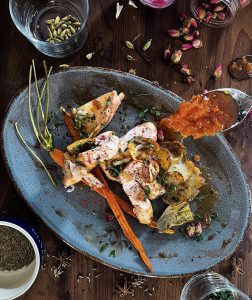 My mother is very much my mentor in the kitchen. Discreet and refined and imaginative, she is a different cook than I am but her restraint guides me because her food has so much balance. She always presented things beautifully and made sure we ate a variety of things that transcended her cultural vocabulary - stirfries, French inspired sauces with cream and cognac - it's no wonder my friends still want an invitation to dine there! We still cook together and to this day, I CANNOT duplicate her sweet and luscious tomato sauce, especially when made from my father's crazy variety of tomatoes from his garden (including the ciliegino di Pachino, which he saved the seeds from a time a delegation from Pachino came and left us some imported tomatoes)".
Which is your main activity now?
"It will be nine years this February that I have worked at Miele Gallery Caplan's. I am Executive Chef and Manager of Miele Gallery Caplan's. It is fun, challenging, always new, and I am always encouraged to go farther, experiment more and express my creativity!".
What projects (and dreams) do you have?
"I don't want to stop learning, collaborating, evolving...maybe one day I will open a small place by the sea somewhere and cook daily, different things for people who drop by and want to see what I can throw together. Or maybe I will apprentice at a michelin star restaurant. I havent planned anything but I think life gives you many chances if you are open to seeing them...".
(pics by Andrea Verginella Paina)