VANCOUVER – Italian restaurateurs in the square today in Vancouver to protest against the sudden closure decided on Monday in British Columbia by the provincial government after the surge in infections last week.
They announced it and they did it: a flash mob to say "no" at closing. "However, we have kept our distance – explains the Canadian president of the APCI, Giovanni Trigona – from many demonstrators who were in the square for ideological reasons, such as deniers, anti-vax, anti-mask, pro-Trump, anti-Trump … so we have decided to entrust to the media the message that chef Alessandro Riccobono, owner of an Italian restaurant in Vancouver ("Eat kitchen and bar") and delegate of the APCI in British Columbia, wrote on behalf of all of us ".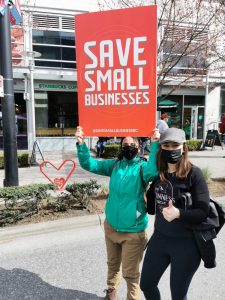 "And here I am today instead of being in my kitchen cooking for my clients! And here I am – we read in the message of the Italian chef Riccobono – here to play the bad guy! Yes, the bad guy! Because for many of you at home and for this government, we fight for our illegal and wrong activities".
"Many people are affected by these closures, many hardworking people with families and many of us also supporting their families at home in other countries. We are a selfless group of people by trade, we cook, serve and love doing it! We always take care of other people and we have also done so during this pandemic following extensive protocols. Now, apparently, isn't that enough either?".
"And so – continues the message – we ask our leaders: find another way to solve this problem and leave small businesses alone. We remain open. We call on the government to lift these latest restrictions and find a different way to protect ourselves from this virus. We are not protesting against Covid, we are protesting against the solutions taken which we believe are harming people more than the problem itself".
In the pics, the flash mob of Italian chefs in Vancouver, today