TORONTO - Some MPs will say and do anything to get attention in the House of Commons. It is a crowded field. Most of them (myself included when I was there) have precious little to say that is of interest to the handful of people who may be watching the debates. Do not misunderstand, they actually do some fine research and delivery on topics of material impact on legislation.
The problem is that there is no drama for an excitement starved viewership. Except during Question Period when "all bets are off" and MPs attempt to go for each other's jugular, metaphorically speaking.
Today, more precisely Wednesday, September 5, MP Rempel, during Question Period, used an unparliamentary word (S***) to describe the government's approach to contentious issues regarding gender expression: "cut that woke stuff" she said correcting herself and apologized for the inelegant use of the English language.
The House was "debating" the appropriateness of significant amounts of dollars to "combat hatred" towards marginalized communities, with particular attention that attributable to gender or sexually motivated bullying.
From a personal perspective, I do not think anyone would tolerate bullying against anyone else, regardless of the motivation. Rempel had probably had enough of the moralizing finger-pointing by Government MP for undocumented grievances visited upon previously perceived victims. Her frustration appears to have been brought about by the incessant advancement of the counter-culture movement that has gripped the Government side of the House.
Rempel's choice of words may have been indecorous, but hardly in the same ballpark as the Prime Minister's own reliance on expletives more commonly heard around hockey arenas, other sports venues or events where cultured upbringing is not a prerequisite for admission to a microphone, or megaphone.
She should be thankful that she did not utter those words in the Toronto Catholic District School Board where a certain trustee's alleged use of her words, in December of 2021, prompted a quartet of [hypocrite] trustees (De Domenico, Di Pasquale, Li Preti and Rizzo) to initiate an "investigation" into his infringement of a Code of Conduct.
It would have been laughable had it not been for the sheer cost in legal fees paid by the Board to satisfy their thirst for revenge. Or indeed for the manipulation of the system (all fingers point to the Director, Brendan Browne) required to tear down that trustee's reputation.
Which brings us to the woke agenda to which MP Rempel so cogently referred. Thursday, October 6, several teachers and parents from two "single sex high schools" called the Corriere to alert the paper to a missive sent by the Director's office that all references to "sisterhood" (in the all-girls school) and "brotherhood" in the all-boys counterpart be removed and effaced permanently.
Apparently, the words offend students who may self-identify gender differently. More likely, Director Browne, who is determined to live up to his self-promotional billing as a "transformational leader", may be worried that his puppets on the Board may lose the election and he will no longer have a free reign.
Either that or he is taking direct aim at any vestiges of the Catholic board's history.
We reached out to the Board for a response but as of going to press we did not receive an answer.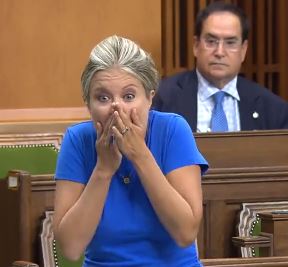 In the pic above, MP Michelle Rempel covers up her mouth after saying the word "s**t" in the House of Commons (screenshot from the video by CPAC - https://www.cpac.ca)
TO READ PREVIOUS COMMENTS: https://www.corriere.ca/english-articles