TORONTO - " I just want to search for my past and I realize things don't remain the same and change over the years…": Rosanna Natale, immigrated in Canada from Italy since 1959, is trying to retrace the paths of her childhood and youth: she has already found many traces and she's halfway through her search, but she still has some steps missing and she asks for help from the readers of Corriere Canadese, in order to retrace them.
"I immigrated along with my parents in 1959 from a small town near Termoli: my parents Antonio and Graziella Natale along with four children  landed in Montreal (not in Halifax like all the other immigrants) on May 14, 1959 (in the pic, Rosanna with her mother and her brothers and sister). Then we travelled by train to Toronto where we lived with my Uncle Nick. I was only 2 1/2 years old and in need of heart surgery: I had my first surgery at the age of 3 and my second at the age of 5 done at Sick Kids Hospital in Toronto: whatever they did they did it right! I was one of the first pioneer open heart patients and without the surgery. I would not have lived past 5 years of age. I am 64 years old now and still ticking".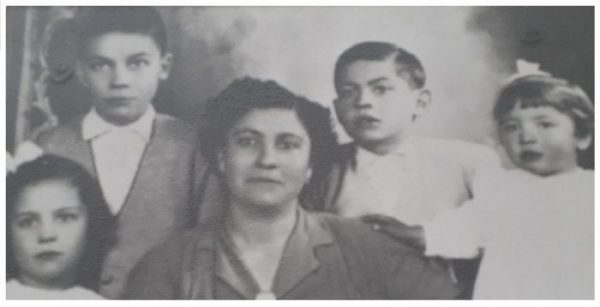 Rosanna's father worked for a short time in a bakery before working as a construction worker helping bricklayers and carrying blocks up scaffolds.  "Over the next 4 to 5 years - Rosanna remembers - we moved a lot renting floors from one house to another.  We lived in the Little Italy area of Toronto and at that time we lived on many different streets.  Euclid Ave., Manning Ave., Dundas St., Treford Place, Markham St., Dovercourt Road and College St.  I tried going through my hospital records but was informed that any information prior to 1964 was destroyed".  Her siblings started school Sept. 1959 attending Palmerston school, St. Peter school, St. Anthony and St. Francis (some of these schools no longer exit).
"What I would like to do - Rosanna explains - is retrace my family steps and look at all the different houses we lived in. My first step was to contact the Toronto Library looking for the old white page directories.  They gave me a link and through that link I was able to find some of my homes. I knew we lived at 14 Treford Place  (as I attended St. Francis school for one year) and then moved to 64 Chalkfarm Dr. and with the directories help I found my father's name on 742 A Euclid Ave. and 320 Markham St.".
"I remember living on Dundas St. over a barber shop... then, talking with my brother, he remembers the barber shop was called Rocco's Barber Shop and he was at 926 Dundas St. W. ...and I remember living on College St. on the third floor and that we had access to a roof top: the owners built a wooden walkway so that we wouldn't fall off the roof.  I remember there was another man living in the apartment below us who like so many other immigrants came, worked and sent money back home to have their families join them. When this man's family came it was his wife with 10 or more kids.  My brother said that he was also in the newspaper and I assume it would have been the Corriere Canadese. 'L'immigrante numeroso'. I'd like to find that family, today".
Rosanna also would like "to find the other locations of my family and more details about our lives in those years: both my parents have passed away as well as many of my other relatives. The ones that remain are in their late 80s and 90s and don't remember much".
"I am hoping someone might remember their parents or other family members who had barrels of cod fish in the basement of their house on Dovercourt Rd.  This house had an exterior fire escape staircase in the back which we used to go to our apartment".
While Rosanna tells, many memories resurface: "When living on Manning Avenue, we were across from the entrance of St. Francis school.  The home we were living at had a large chestnut tree in the front and my older brother would throw a tennis ball to knock down the chestnuts until he accidentally broke one of the windows. My dad was very upset because now he had to pay for the broken window.   Maybe the family would remember a window being broken by the renter's little boy?"
"When this pandemic is all over, I would love to walk through the streets of my childhood once again".
If someone has information to help Rosanna to retrace the paths of her childhood and youth, write to corriere@corriere.com
In the pic above, 1069 St. Claire Avenue in 1959 (from City of Toronto Archives, @TorontoArchives)