TORONTO - Every year, May 3 is a date that countries around the world celebrate World Press Freedom Day, proclaimed by the UN General Assembly in 1993. It is a day in which to acknowledge the essential role of professional journalists and to underline the importance of verified and reliable information made available to the public.
All over the world, there is no shortage of news to digest. The changing structure of news production and consumption means the public can access all types of information in whichever format they prefer. From newsprint to television to the internet, it is all available at one's fingertips.
For the estimated 4.6 billion active internet users worldwide (about 60% of the global population), an abundance of news is accessible for free. Over the last year, as more people made the shift to working from home coupled with the thirsts for staying up-to-date on world events, more people have been turning to digital subscriptions.
Despite the plethora of content available for free, some prefer to pay for their online news content. The reasons are complex. Subscribers may value certain benefi ts such as convenience, distinctive content or they may feel they are getting high-quality information.
According to the Global Digital Subscription Snapshot Report 2020 prepared by FIPP and CeleraOne, The New York Times (NYT) ranks as a global leader in the number of paid subscribers, 6.1 million. When it comes to English content, US news outlets dominate the online media landscape. However, other media publishers in the UK and Canada are a popular choice for trusted information, based on the number of subscribers (Graph 1, above). The most popular digital media in the UK, the Financial Times, has a loyal following with 1.1 million paid subscribers. In Canada, The Globe and Mail ranks number one, nationally, for the highest number of paid subscriptions, 139,000.
When taking into consideration multinational non-English news providers, Nikkei, the largest Japan-based publication, ranks at the top of the list for the most paid subscribers, nearly 768,000. As for European news websites, the most popular trusted sources of information, based on number of paying customers, are Germany's Bild (494,000) and Italy's Corriere Della Sera (300,000) (Graph 2, below).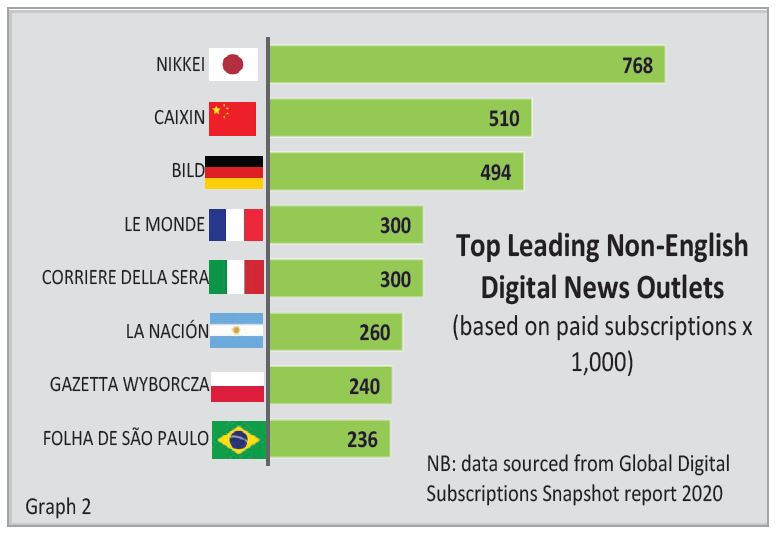 In a growing digital age with modern technology, more news industries are turning to a digital subscription model. While not everyone may "buy" into the idea of "paying to stay informed", as the list of media businesses continue to grow, more companies may recognize that paid content is the future of the industry.
As to our own Corriere Canadese, it is the only third language newspaper in Canada recognized as a Qualified Canadian Journalism Organization by the Canada Revenue Agency. Its numbers are not yet "up there" but, as they say, "we are the only game in town". On a per capita reach into our community, we beat the "Big boys" by a long shot.