TORONTO - As the Covid-19 pandemic continues to sweep across the globe, the constant barrage of case numbers, variants, total Covid-related deaths and now vaccination rates are impossible to ignore. Data coming from the World Health Organization (WHO) warns the true number of Covid-related deaths is likely 2-3 higher than the official count of 3.5 million.
On May 21, the WHO released its annual World Statistics Report 2021, a document that gauges how the world is managing health trends. This year's edition reflects the world's health status prior to the Covid-19 pandemic and includes preliminary estimates for global excess deaths attributable to the virus.
As of December 31, 2020, the WHO reported about 85 million confirmed cases of Covid-19 including over 1.8 million deaths. However, the official numbers represent only a partial picture. It has been difficult for some countries to accurately measure the number of cases and report on Covid-related deaths, whether these were directly or indirectly attributable to the virus.
How are governments expected to develop strategies and implement policies to improve the health of a nation with unreliable figures? The 2021 report focused on issues like persistent health inequalities and data gaps - elements exacerbated by the pandemic. It also highlighted the urgent need for investments to improve health information systems. This way, the world would be better prepared with data so that governments have adequate information when faced with a future health crisis. Each country has its own challenges when tackling health issues. Tracking real-time, quality data of population health is crucial so that countries may improve health outcomes and eliminate health inequalities.
The speed of contagion and the number of lives claimed by Covid-19 fueled widespread panic and prompted governments to implement full scale lockdowns to mitigate its effects on the population's health.
Notwithstanding the impacts of the pandemic, global life expectancy (LE) and healthy life expectancy (HLE) at birth are on the rise. These are as a result of improvements in several communicable/noncommunicable diseases; maternal, perinatal and nutritional conditions, and, injuries (including their underlying determinants).
For example, between 2000 to 2019, LE measured at birth increased from 66.8 years to 73.3 years, respectively. Similarly, HLE climbed from 58.3 years in 2000 to 63.7 years in 2019. While both are on the rise, LE is improving at a faster rate than HLE. This may lead to a higher proportion of years lived with health complications and disability. (graph 1, below)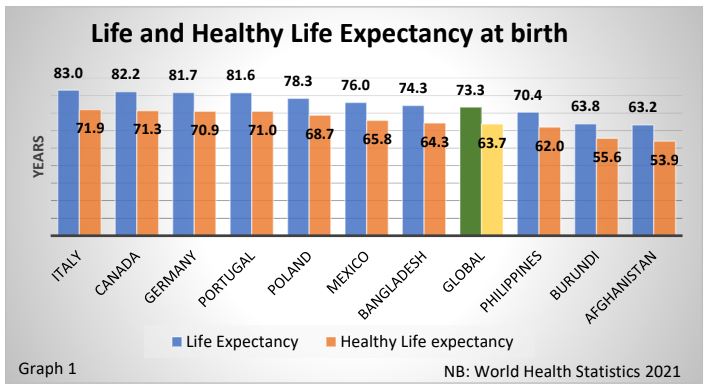 Some of the greatest gains occur in low-income countries. This is likely explained by rapid reductions in child mortality and the reduced spread of communicable diseases. In 2019, noncommunicable diseases accounted for 7 of 10 leading causes of death worldwide, (graph 2, see top of the page).
The situation is similar in Canada (graph 3, below).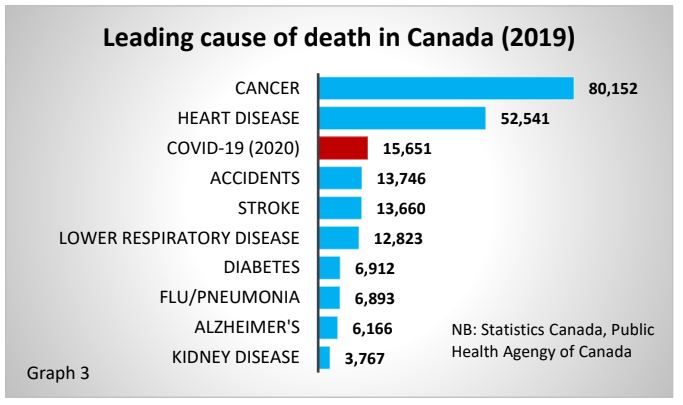 Overall, implementing a reliable health information system, in collaboration with governments, ministries of health and national statistical offices could help improve strategic planning so that citizens worldwide have the opportunity to live healthier lives.