TORONTO - Some "professional" organizations expend fantastic resources to preserve their organizational reputation.
Their integrity is a guarantee to the public that the organization's membership is trustworthy in delivering good/excellent, product and service to the public.
Go to the offices of a medical doctor, a dentist, an engineer etcetera and you will see the prominent display of certificates and degrees attesting to their competence.
The Ontario College of Teachers (OCT) has for decades aspired to convey its ability to ensure the same level of "gravitas" on the part of its members. They are not there yet.
For one, they do not have an unassailable, transparent adjudication procedure in the handling of complaints launched against its members. For another, their "investigation" of complaints come across as whimsical or spiteful. Further still, it seems to have forgotten its central role: to prepare teachers in the art of imparting mechanical (quantifiable) skills and deductive analysis. That should be relatively simple. The OCT now requires a further two years of study and training after the conferring of a B.A. degree before awarding a Bachelor of Education diploma/license.
From there, the OCT might be able to assure the public that its member-teachers, in the execution of their contractual obligations, conduct themselves with manifest professionalism when interacting with students. We cannot be sure the Registrar/CEO of the OCT understands what that means or has the courage to enforce that. Worse, school boards do not look to the OCT for guidance in maintaining "professionalism".
A case in point is the Oakville teacher in the Halton District School Board (HDSB) who drew international attention [unanimously negative] for his/her preferred mode of attire: wearing gigantic breast prosthetics - "in accordance with their lived gender", in a classroom (in the pics below, from social networks).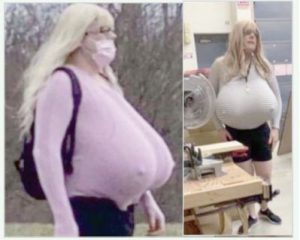 Faced with what might normally be considered public outrage at the charade, the HDSB stood by the teacher. It preferred to treat this "controversy" as a dress code issue. The Board of trustees asked the Director, Curtis Ennis, and the Superintendent of Human Resources, Sari Taha, for a Report outlining whether, (1) "the imposition of a dress code would be permissible from a labour and employment law perspective", and (2) whether would it "raise any concerns in relation to the Board's obligations under the Human Rights Code".
Nothing about checking with the OCT about "professional conduct". Ennis and Taha did consult the Ontario Labour Relations Act (Board) and the Human Rights Tribunal to "test" their findings.
In respect of Number one above, the "test" would involve consistency with the collective agreement, reasonableness, and capacity for consistent enforceability. In regard to number two, they looked into "the impact that dress code policies can have on members of the transgender community".
Their final report, made available November 8, 2022, expressed no indication that the HSDB thought it necessary to consult the OCT, the "body" that trained/certified all of their teachers.
Absent the input of the OCT, the Report concluded: "if the employer desires to foster a culture of professionalism, respect, equity and inclusion, a truly reasonable and non-discriminatory dress code or grooming standard would most likely fail to yield the intended results." In plain English, no one can establish norms of "professional behaviour" in this climate.
TO READ THE WHOLE DOCUMENT, CLICK HERE: HCDSB DRESS CODE
A spokesperson for the HDSB, Heather Francey, in response to our email queries for elaboration said: "Our school board… continues to handle this matter in a way that stays true to our values and commitment to Human Rights [… but…] we will not and cannot publicly discuss any matter that identifies our staff directly or indirectly... (emphasis added). The board no longer cares about "Character"?
No one mentions the role of the OCT and professional conduct. Maybe it is not interested in disciplining an in-class teacher, or one that is woke.
Yet, in the Del Grande vs TCDSB court hearing of October 19, the OCT had at least five (5) lawyer/investigators present. One can only infer that they were taking notes for the OCT's upcoming internal "discipline hearing" against a non-practicing teacher. His great offense would appear to be his dedication as Catholic trustee. He has never actually taught in a classroom, despite having earned a valid teaching certificate.
It may not be fashionable to be Catholic today, but this is no excuse for the OCT, a publicly-funded organization, to engage in a witch hunt designed to eat away at Constitutional denominational rights of Catholics. What an embarassment for democracy.
TO READ PREVIOUS COMMENTS: https://www.corriere.ca/english-article