TORONTO - Over the weekend, millions of people around the world took part in Mother's Day celebrations. The annual holiday, an occasion to celebrate motherhood, falls on the second Sunday in May and is observed in north America, most of Europe and several other countries around the world.
Typically, it is an occasion for families to gather and honour their mothers, grandmothers, great-grandmothers and all the women who assume the loving, caring, nurturing and mothering role in the family. In my opinion, it is an extraordinarily selfless role, worthy of more than just one day of recognition.
However, the occasion acts as a reminder for us all to pay homage to our mothers and honour the sacrifi ces they have made for their children. And honour them we do. It has become one of the biggest consumer holidays with Canadians spending on average $2 billion to mark the occasion.
Yesterday, we showered our mothers with gifts, fl owers, cards and any number of things that show our appreciation for all that they do. But, what do mom's want most of all – quality time spent with their family (see graph 1, below).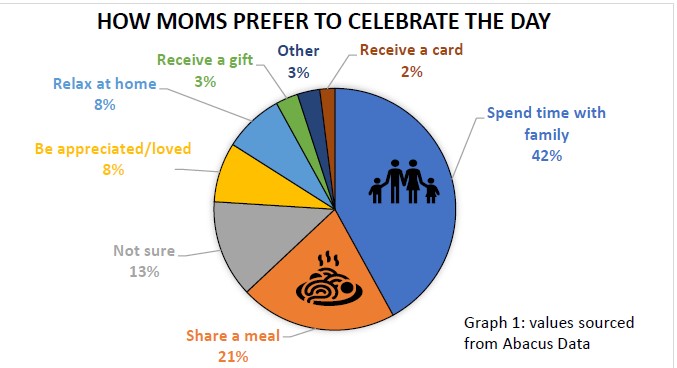 For the second year in a row, Covid-19 precautions and restrictions have created a challenge to in-person quality time with mom, especially for adult children who no longer live in the same household. But, after more than a year of zoom calls, "face-time" chats and social distancing, people have come up with creative ways to celebrate the special maternal fi gure in their lives while staying safe. Of course, living in the same house makes things a little easier. When it comes to families with young children, it is these family units that are generally more likely to have celebrated the day. According to Abacus Data and fi gures from the National survey of Canadian adults, 56% of Canadians had planned to celebrate Mother's Day. Of those individuals who did, roughly one in ten, gift giving did not factor into the celebration. This aligns with mom's real desires, to simply spend quality time together. It goes without saying that children don't always listen to their mothers. Hence, a gift is usually part of the celebrations on the special day. Generally, fl owers are among the most common gifts on Mother's Day (see graph 2, below).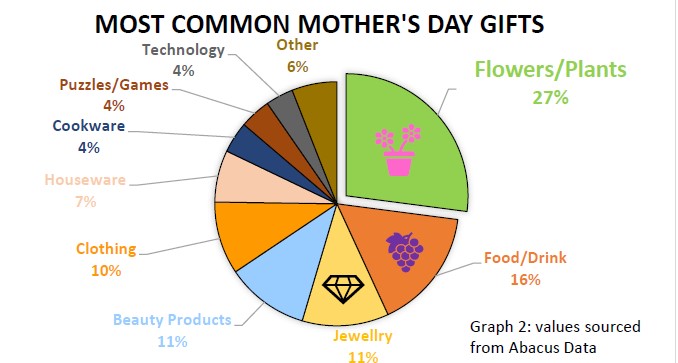 A drive past any florist or garden centre during the second weekend in May confirms its popularity. Aside from family-bonding time, if you ask mom what are some of her favourite gifts, a handmade craft usually tops the list. It shows a level of thought and effort that went into creating a specially handcrafted token of appreciation.
Giving mom the day off from kitchen duty and treating her to a shared meal at her favourite restaurant is another popular way to celebrate. However, with indoor/ outdoor dining prohibited under provincial lockdown measures, families could have gotten around that glitch and ordered take-out or created a scrumptious feast that was enjoyed together at home.
While most mothers will not admit to having received a "bad" gift, the one that tops the list is when families failed to remember the day at all. In the unfortunate event that was the case, 364 other days remain in the year to acknowledge mom and devote some time to her. Let her know she is always loved and appreciated.