TORONTO - A growing body of data suggests that overtime and long working hours adversely affect the health and well-being of workers. A new global study finds working more than 55 hours per week increases a persons risk of stroke and heart disease.
According to a systematic analysis from the World Health Organization and International Labour Organization (WHO/ILO), latest estimates suggest long working hours killed three quarters of a million people in 2016, up 29% from 2000.
A team of researchers from around the world analyzed data collected from 194 countries between 2000-2016 to determine the burden of heart disease and stroke attributable to excessive hours of work.
The report, published in Environmental International (May 17), showed that working 55+ hours per week was associated with a 35% increased risk of stroke. It is also linked with a 17% higher risk of dying from heart disease, compared to working an average of 40 hours per week.
In 2016 the number of deaths from heart disease attributable to overtime and extended hours of work (347,000), increased by 42% from 2000. The number of people who died from stroke (398,000), increased by 19% over the same time period. (Graph 1)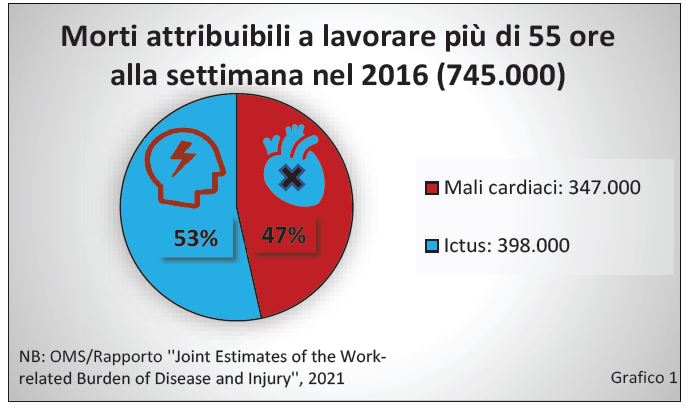 When it comes to work-related burden of disease, most deaths occurred in the 60-79 age group, the same cohort who had worked more than 55+ per week between the ages of 45-74.
Work is essential to the existence of any society. Whether you live to work, or work to live, it is one thing that unites us all. However, the amount of time we devote to work each day can vary. In some countries, the definition of long working hours depends on national regulations.
For instance, at the turn of the last century, Canadians on average worked 60-hours per week. Change over the following decades, largely in part as a result of union activity and measures to improve health and safety, the average work week reduced to a range of 35-40 hours per week by the mid 1960s.
Fast forward some 50 years later and the standard 40-hour work week appears to be on the rise.
For instance, in 2000, 8.1% of the global working population (488 million) was exposed to a work week of at least 55-hours. Sixteen years later, that proportion increased to 8.9%, with younger middle-aged adults and males more commonly exposed. (Graph 2, at the top)
The Covid-19 pandemic has not offered a break in the trend. The shift to remote work has led to employees putting in extra hours. Those who have the privilege to work from home find themselves more absorbed in their work for longer periods of time. This not only affects a healthy work-life balance, but adds to the work-related burden of disease with potential lethal consequences.
The WHO recommended that "governments can introduce, implement and enforce laws, regulations and policies that ban mandatory overtime and ensure maximum limits on working time". They also suggested taking actions like collective bargaining agreements between employers and workers' associations to make working times more flexible to protect workers' health.