TORONTO - Created in 1999, the constituency of York–Simcoe is situated on the south shore of Lake Simcoe. It covers part of the Regional Municipality of York and encompasses the towns of Georgina, Bradford West Gwillimbury, East Gwillimbury and part of the Township of King. The riding also includes part of the County of Simcoe and the Indigenous community of the Chippewas of Georgina Island First Nations Indian Reserve.
Some may refer to the area as part of cottage country, but it is becoming more of a commuter country. The area is home to a diverse and growing population with people originating from different ethnic backgrounds, primarily of British origin.
In terms of residents with Italian heritage, Statistics Canada says 10,085 self-identify as Italian Canadian (as per the most recent data available, 2016 Census). That represents 10% of the district population.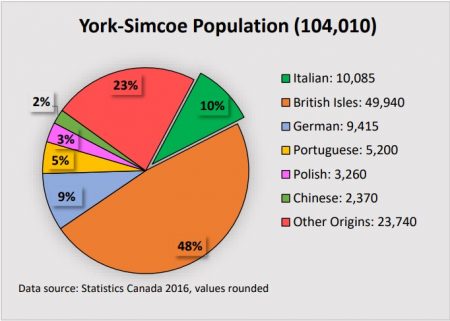 The riding was first contested in 2007. Since the, the PC have dominated the political landscape. Caroline Mulroney, current MPP, seeks her second term in office. She is preceded by the late Julia Munro who was the longest serving female MPP in Ontario history (served 23 years).
Mulroney was elected in 2018 with 57% support of the electorate (26,050 votes). The NDP took 23%, but the margin of victory was 15,395 votes. The Liberals only managed 13% of the vote.
This time around, candidate Walter Alvarez-Bardales, aims to garner more support for the Liberals. Meanwhile, the NDP have not yet declared a candidate for the riding.
With election day less than five weeks away, the majority of electors in York–Simcoe appear content with the current leadership. According to the latest projections by 338Canada.com (April 23), the PC are in the lead at 54%.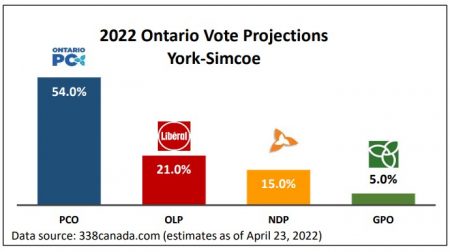 The statistical model that uses algorithms and considers all major polls indicate that the Liberals trail by 33 points at 21%. The NDP hover around 15% followed by the Greens at 5%.
None of the party candidates responded to requests for input at the time of going to print.
P. Pajdo is a Local Journalism Initiative Reporter