TORONTO - Staying in Northern Ontario, the next provincial electoral district our series covers is that of Thunder Bay – Superior North (TBSN). The constituency is situated in Northwestern Ontario along the north shore of Lake Superior. It is located approximately 1,300km northwest of Toronto, a mere 15-hour drive – non stop.
The district covers an area of 88,000 square km (equivalent to almost one-third the size of Italy). The area is mostly wilderness and encompasses a substantial portion of the Canadian Shield with municipalities and townships dotted throughout the region.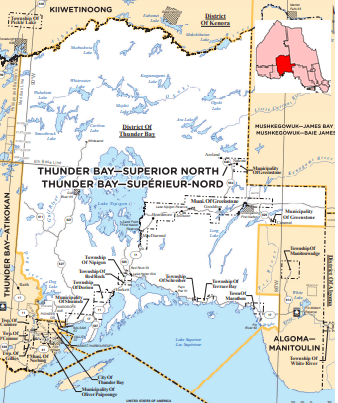 Nearly 50% of Ontario's harvestable forest is located in Northwestern Ontario making forestry a big industry in the region. Manufacturing was once a significant role in the region's development. Now, the education and research sectors also contribute to the vitality of the economy.
According to the 2016 Census, TBSN is home to 82,650 residents. Immigrants make up a sizable portion of the local population. For example, Italians at 12%, represent one of the largest ethnic groups among Northern Ontario districts. That translates to 9,925 constituents of Italian origin in TBSN alone.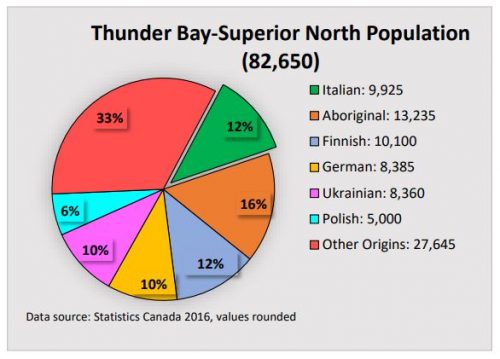 A traditional Liberal riding, Michael Gravelle, current MPP, is seeking re-election. He has represented the riding since 1999. In 2018, Gravelle won 39.9% of the vote with 11,973 votes. NDP candidate Lise Vaugeois was close behind with 37.1% while the Progressive Conservatives (PC) secured just 17.9%. The margin of victory was only 813 votes.
The latest projections by 338Canada.com (March 27), which uses algorithms that take into account results of all major polls, the Liberals are in the lead at 52%. The NDP fall behind at 26% while the PC hover at 16%.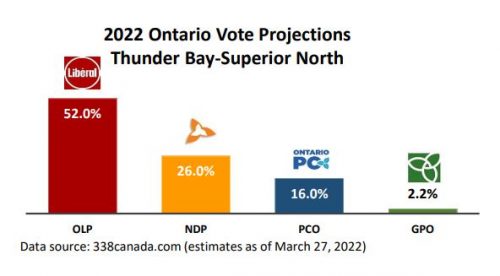 This is the second time Vaugeois faces off with Gravelle in a general election. Meanwhile, Peng You aims to gain more support for the PC party.
Candidates were unavailable for comment prior to our going to print.
P. Pajdo is a Local Journalism Initiative Reporter