TORONTO - The provincial electoral district of Thunder Bay – Atikokan (TBA) is situated just west of Thunder Bay – Superior North along the north shore of Lake Superior. Located about 1,600km northwest of the capital, by car it would take about 18 hours (nonstop) to reach Ottawa.
The district covers an area of 25,600 square km (about the same size as Sicily). It encompasses the town of Atikokan and the south side of the City of Thunder Bay. The oddly shaped riding dips south to the Canada/US boundary.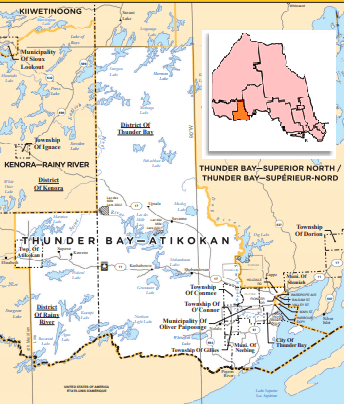 According to the 2016 Census, TBA is home to 82,650 residents (population count includes those in parts of Rainy River District). Like other districts in the area, immigrants make up a substantial portion of the local population. For instance, 8,725 constituents self identify as Canadians of Italian origin. That represents about 11% of the local population.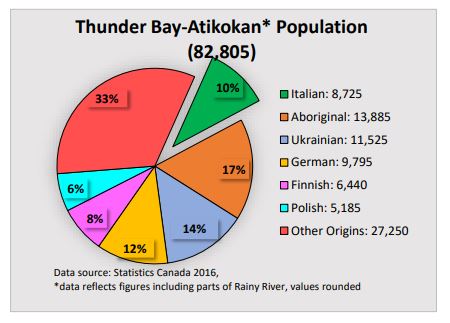 Historically, the Liberals have held the constituency since its creation in 1999. Former MPP Bill Mauro represented the riding for fifteen years between 2003 and 2018. In the 2018 general election, challenger Judith Monteith-Farrell defeated Mauro and won the riding for the NDP by a slim margin.
She took 36.3% of the electorate with 11,793 votes. Mauro came in close behind at 36.0%. The margin of victory was only 81 votes. The results were quite close and with two months to go until election day, things appear poised to change.
The latest projections by 338Canada.com (March 27), which uses algorithms that take into account results of all major polls, the Liberals appear to be gaining the upper ground with 41%. The NDP fall behind at 31% with the PC further back at 21%.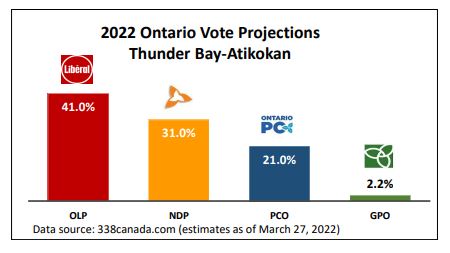 Current MPP Monteith-Farrell seeks re-election for her second term in office. Interestingly, the Liberals have not yet declared a candidate for the riding. Meanwhile, candidate Kevin Holland is working to gain ground for the PC party.
Candidates were unavailable for comment prior to our going to print.
P. Pajdo is a Local Journalism Initiative Reporter