TORONTO - Anyone who is convicted of a crime and imprisoned, may find themselves in some of the world's worst overcrowded prisons.
According to World Prison Brief, Institute for Crime & Justice Policy Research (WPB), the US is a world leader in incarceration. At 639 prisoners per 100,000 general population, the US has the highest incarceration rate in the world.
Last week, CNMNG and Corriere Canadese published a piece titled "Overcrowded prisons in Europe" by Marzio Pelù (read it here: Overcrowded prisons in Europe: only Turkey worse than Italy). It highlights the most densely populated prisons on the European continent. In 2020, Turkey had the most overcrowded prisons in Europe, with a rate of 357 prisoners per 100,000 population.
Consider the broader picture. The US has a high rate of incarceration compared to other countries, nearly twice that of Turkey's. Depending on which data source used, those rates may vary.
WPB, which updates data monthly, compares the latest incarceration rates in over 180 countries, a selection of which are included in graph 1 (below). In Canada, the rate of incarceration per 100,000 population is at 107. It is a rate somewhat better compared to other countries like the UK at 114, Mexico at 158 and the Philippines at 200. Italy's rate at 90 prisoners per 100,000 inhabitants is slightly better than some other European countries, but not by much.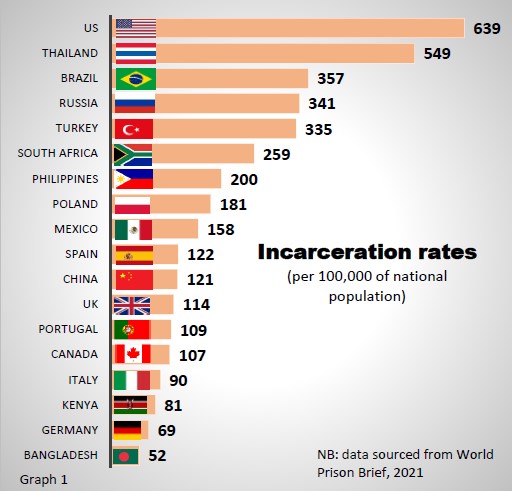 These incarceration rates take on the appearance of an epidemic. This prompts debate on issues of civil rights, the need to reform the criminal justice system and issues of criminality. Such matters flow into other issues that form public debate. One such issue is whether the crime justifies the punishment.
Another point is whether overcrowded prison systems increase health risks and mental health issues for incarcerated individuals, potentially exacerbating the point. In several cases, jail occupancy rates surpass 100% capacity. Prisons in the UK, Canada and Italy are beyond full capacity. In more than one hundred countries, prison systems operate at well over double their capacity (graph 2, below).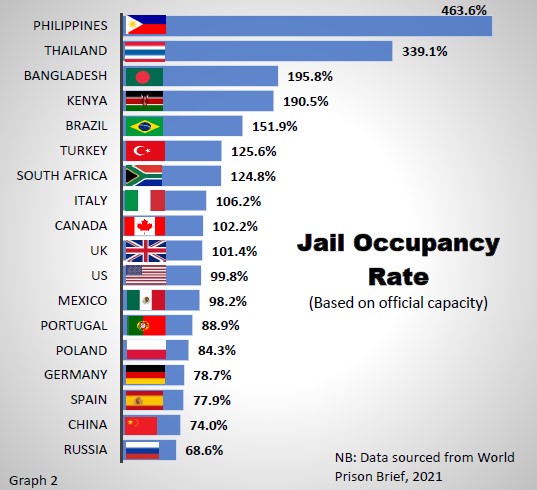 Some countries may not have enough prisons to accommodate an increasing population of convicted. Also, many of these institutions have outdated facilities which inhibit their ability to effectively adapt to the changing goals of the justice system. For instance, the Philippines has one of the highest jail occupancy rates in the world - 463.6%.
The country's high occupancy rate is partially explained by President Rodrigo Duterte government's anti- narcotics campaign. Since he took office in 2016, hundreds of thousands of people have been jailed. Bottom line, "don't do the crime if you don't want to serve the time". It is not the only place where that view prevails. It seems a convenient default position.
According to Human Rights Watch, since the onset of the pandemic, the arrests and temporary detention of thousands of citizens who violate Covid-19 regulations and curfews have exacerbated the problems associated with an already overcrowded system.