TORONTO - Innovation and investment in business can be instrumental to the success of economies around the world.
Countries that open up opportunities for more people to participate in economic recovery efforts are fundamental to a productive, sustainable economic future.
Some governments recognize the necessity to promote, protect and finance the growth of entrepreneurship and innovation. The Innovation Investment Index is one tool to help better understand the economic performance of a nation.
Investment experts from money.co.uk, a British-based price comparison website for financial products, collected and analyzed data from some of the world's most powerful [Western] economies. The resulting index lists some of top performing countries in terms of driving innovation.
Canada, with a score of 44.5 out of 60, ranked at the top of the list. Coming in closely behind is the US with a score of 44, followed by the UK at 39.5 (in the chart above) . The formula for calculating the index was based on six factors: the total number of businesses, the number of start-up companies, the start-up ratio, the number of grants offered, total amount of grant funding available and the GDP. All categories were evaluated with a maximum score of sixty.
What stands out, is that Canada offers the greatest number of grants at 413, about $195,000 CAD in total funding. The government's purpose in providing grants to businesses is to encourage development of particular enterprises in certain places. Some programs offer small-business funding as well as mentoring and training. Combined, these elements can make the difference between success and failure.
This strategy appears to be working in Canada. More than half of all businesses registered in the country are start-ups. 52.6% (graph 1).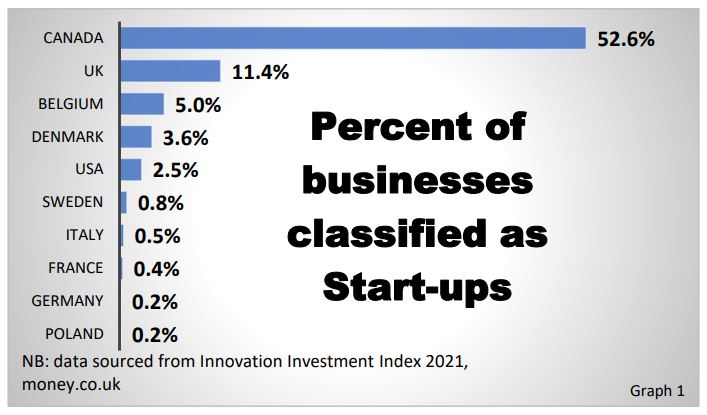 The percentage of start-ups in the UK, 11.4%, is roughly one-fifth that of Canada's. It is only one of three nation in the analysis with grants beyond double digits. At 226 programs, the total value of funding available is equivalent to $877,000 CAD.
That value is nearly five and a half times greater than the amount accessible to Italians in their homeland. The Italian government offers 3 grants totaling a value equivalent to $158,000 CAD. Italy ranks in twelfth place out of the eighteen countries on the innovation investment index. The country scored 22.5 out of 60, half that of Canada's.
The journey towards economic recovery will rely on the type of infrastructure in place to support innovation and build a stronger more resilient economy. Small businesses are key players in the overall success and prosperity of all nations. Increased funding for grants is the fuel to drive innovation and economic growth.