TORONTO - The implementation of Covid-19 lockdown measures in early spring prompted a transformation of consumer spending habits. People reprioritized what was essential and shifted to on-line shopping, while following stay-at-home orders.
In a panic to stock up on groceries and non-perishable goods, shoppers snatched up high-demand items like hand-sanitizer and toilet paper. According to J.P Morgan Research, an industry-leading analysis and investment advice team, following a flat growth rate between 1-2% month to month, the US food industry experienced a huge spike from March – up to 20% in May of this year (Graph 1).
Similarly, in the category of health and personal care products, market growth increased from one percent in March to 17% in May when lockdown restrictions began to ease.
Throughout the spring and summer months, the "panic buying" of certain items normalized as shoppers began to change their focus. Consumer trends in discretionary spending shifted to purchases that improved their surroundings as more people stayed close to home.
Those who had more time around the house, whether they were laid o. or working from home, and could afford to, were spending time and money on home improvement projects.
For instance, home supply stores reported a sales increase of 31% throughout the spring/summer, compared to the same period one year ago. As families were spending more time together at home, items like, pools and hot tubs were in hot demand.
According to Moneris, a Canadian payment processing company, pool sales and services experienced a 51% increase compared to the same time last year.
The boost in sales was not only in pool stores, but models were also selling out online.
If cooling off in your very own pool was not an option, perhaps a boat ride through the waves may have done the trick.
Overall boat sales experienced a 17% increase across Canada. In Ontario, sales were up 26% compared to last year, as more families looked to enjoy the provinces lakes and waterways (Graph 2).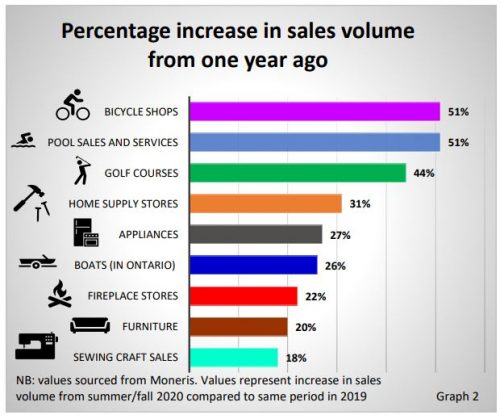 Living in an everchanging Canadian climate, stretching the summer season into the Fall has consumers adding patio heaters and outdoor fireplaces to their must-have items. There is a surge in demand for patio heaters as families and restauranteurs try to extend the outdoor patio season in comfort and warmth.
This type of discretionary spending is reflected in our lifestyle changes. As the weather gets colder and we move back indoors, spending on items like appliances, indoor fireplaces and furniture will likely also increase. One can also expect other hobby related items like sewing crafts, games and electronics to experience an increase in sales.
Like most other events this year, the 2020 holiday shopping season will be anything but typical. According to the Deloitte 2020 Holiday Retail Outlook Report, households are planning to spend 18% less than last year. Now, with further restrictions and lockdowns in Covid-19 "hotspots" like Toronto and Peel Region, small businesses struggling to survive from the impacts during the first wave may suffer financial ruin in having to close their doors to the public once again.
Despite the disconcerting rise in Covid-19 cases and the tougher control measures, Canadians understand the importance of supporting one another. According to a Moneris survey, 76% of Canadians plan to shop local and support their communities. The shift to online shopping will see about 70% of Canadians choosing that option, one that is increasing in popularity especially in areas under tighter restrictions.
No matter what the circumstances, Canadians are resilient. Even with the ongoing Covid-19 pandemic, options exist to help keep communities strong. Shop local, whether it be on-line or curbside pick-up, stay safe and support area businesses when considering your next purchase.