TORONTO - Ontario "reopened for business" …at least some parts of the province. Friday June 12th, marked the start of phase two "reopening" for 24 regions across Ontario. Once again, if they observed restrictions, more businesses, restaurants and hair salons were permitted to open their doors and serve.
Ten remaining regions did not receive such permission to transition to phase two. These regions are included in the Public Health Units (PHU) overlapping the regional municipalities that make up the Greater Golden Horseshoe. They include border regions of Niagara, Lambton and Windsor/Essex. Covid-19 cases in these ten regions make up 85% of the Ontario's total confi rmed positive cases – 32,189 (June 14).
Chart 1, a type of progress report on PHU remaining in the first stage, illustrates the distribution of confi rmed positive cases within these 10 regions. It includes the regional municipalities where Covid-19 infections continue to be of concern.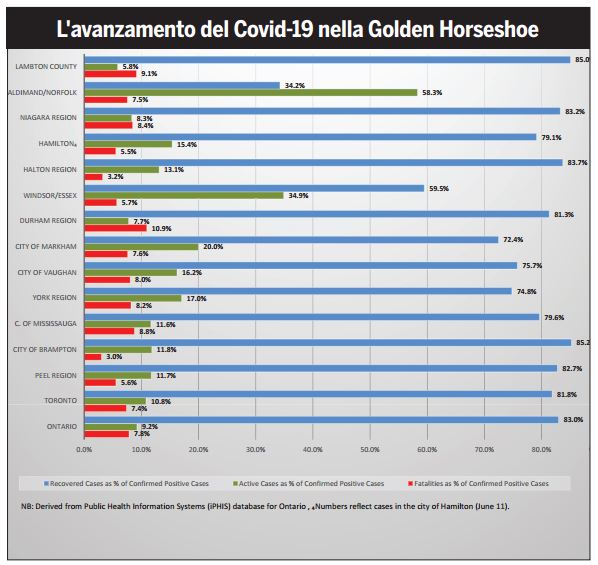 Some municipalities, like Halton, have protested that the mathematical indicators should have already qualified them to restart their economy. Halton reports that over 84% among confirmed positive cases in the region have recovered (blue Columns). The provincial average is 83.8%. Halton's 3.2% fatality rate among those infected is well under the provincial rate of 7.8%.
In part on the strength of those numbers, Halton region sent a letter to Premier Ford (dated June 8), urging the Province to reconsider allowing Halton the permission to transition into phase 2. The letter, signed by Regional Chair, Gary Carr and the municipal mayors of Burlington, Halton Hills, Milton and Oakville, points out "our case numbers remain low, our hospitals have capacity and our contact tracing is at the provincially required levels". Corriere Canadese reached out to Halton's Regional Chair, Gary Carr, to see if the Premier, or his office, offered a reply to the letter. We have not yet received a response prior to going to print.
So far, the Province insists that key indicators/conditions for movement into the next phase must include a reduction in daily new case counts, increased hospital capacity and meeting provincially required levels of testing and contract tracing. Even then, said the Premier in a press conference, the local PHU could veto a Government decision to "open up" a specific municipality. Ontario's daily rate of increase in new cases is heading in a downward tread. Over the past seven days, the province had experienced an average of 225 new cases daily (since June 7). The week prior, the 7-day average was 394. It remains to be seen which municipalities "qualify" later today.
One could argue a case for Brampton (in the regional municipality of Peel) for advancing to the next phase based on the evidence in this table. The recovery rate among cases proved positive is over 85%, better than the provincial rate of 83%.
Even if, unfortunately, Covid-19 has claimed the lives of 85 people in Brampton, this represents a 3% mortality rate - the lowest rate among the ten regions left out in last week's "open for business list".