TORONTO - Do you remember those first day jitters? Those feelings are amplified in a world gripped by Covid-19. Thousands of students across Canada, feeling a heightened mix of anxiety and nervousness, are returning to school after a six-month hiatus.
Incidentally, these mixed emotions impact children, parents and teachers who are concerned whether schools are equipped to safeguard all who pass through their doors against Covid-19 contagion.
According to the Kids Help Phone, a national support service offering professional counselling to young people, eight out of ten children are nervous and stressed about the return to school.
Therefore, it should not be a surprise that many Canadians are concerned for our Nation's youth and their mental health and well-being. In fact, a recent study conducted by Abacus Data for Children's Healthcare Canada (CHC) revealed how worried Canadians are about the future of our younger generation.
Results from a survey published last week found that 92% of Canadians believe that greater emphasis should be placed on children in the National Covid-19 recovery plan. An additional striking discovery is that 70% of Canadians surveyed expect the pandemic to have lasting long-term effects on children. The same percentage of respondents sees the most negative impacts in children's formal education; and, 66% on mental health and well-being.
The results of the survey come shortly after the release of UNICEF Canada's report published on September 2nd. The report measures the state of well-being in youth under the age of 18 in wealthy countries. Out of 38 nations, Canada ranks 30th, on the basis of pre-pandemic data (refer to chart below).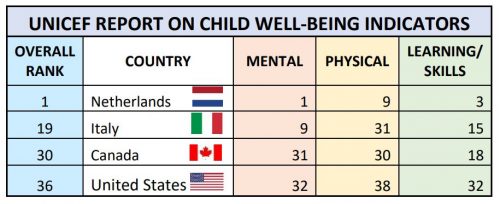 Indicating factors such as mental health and happiness, physical health, education and skills development are used to determine each country's rank.
Generally, Canada offers some of the best opportunities when it comes to economic, environmental and social conditions for growing up. But, according to the report, our Nation has one of the poorest wellness outcomes for children and youth.
For instance, across 38 nations, the mental well-being of Canada's youth ranks at 31, well behind Netherlands and Italy, ranked 1st and 9th respectively. The mental health of American youth fares worse (32), one step behind Canada. This is troubling.
Tragically, Canada has one of the highest rates of adolescent suicide. According to StatsCan, suicide is the second leading cause of death among Canadian youth. Clearly, we must do more to improve the physical and mental health of our youth.
President and CEO of CHC, Emily Gruenwoldt, says, "We can no longer debate or discuss the impacts of Covid-19 on our children. We urgently need new ideas and bold action by our federal leaders…We must act now".
Advocating for the Nation's youth, the CHC calls on the federal government to appoint a Commissioner for Children and Youth. An independent commissioner who can influence federal policy decisions to help improve the mental/physical health, social and economic outcomes for children and youth across the country is a must, it says.
Experts do not yet know the full impact that Covid-19 will have on the mental health of children; however, many believe that a return to routine – i.e., school - will play an important role in overall well-being.