TORONTO - Here we are, over eight months into the pandemic and Ontario is now in the expected "second wave". Last week, the Province hit over 700 new cases on two separate occasions. Friday's report of 732 new infections marked the highest single-day increase since the start of the Covid-19 epidemic.
It was back in April, when the Province was in "lockdown" that daily cases averaged just over 400 (410) during the first week (graph 1, above). The number of daily tests averaged around five thousand during that same time period.
Just this past week (ending Oct 3), daily cases in Ontario jumped to above 600 (613) new infections - graph 2, below. The testing capacity is around 40,000 tests per day.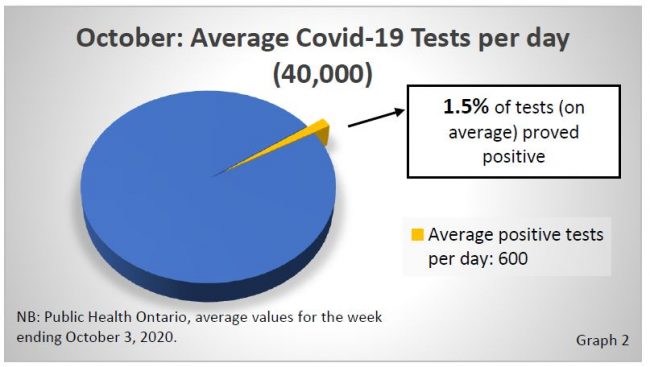 The hope to meet a goal of fifty thousand tests per day by mid-October seems a challenge after the latest changes to the testing guidelines.
Throughout the summer months, Premier Ford had encouraged people to get tested for the virus. Now that cases are increasing exponentially, the message has changed.
The focus has deviated from untargeted asymptomatic testing. The approach has reverted back to prioritizing those who are at greater risk, who have been in contact with a confi rmed case, or are part of an outbreak investigation.
Since the opening of schools and as the weather cools, more people are moving indoors. It is commonly accepted that the virus propagates in closed spaces where people gather. This has prompted an increase in individuals wanting to get tested, evident by the long line-ups and wait times at testing facilities across cities.
To address this issue, and the backlog of over 91,000 tests, Ontario has made some interesting changes. This past Friday, the Premier announced that as of October 4th, all assessment centres will discontinue walk-in testing services. Starting October 6th, all assessment centres across the Province will operate by appointment only.
During Friday's press conference, Ford said "it might take a few days to schedule your test at the start, but we are working around the clock to keep those times as low as possible".
Shortening the wait time is crucial when the aim is to mitigate the spread of Covid-19. Even as the province announced $1 billion to expand testing and tracing as part of the fall preparedness plan, it seems to be blocking access to walk-in testing. If only a device existed that which would expedite the test processing time.
Apparently, they do exist. On Wednesday, Health Canada had approved the Abbott ID NOW rapid Covid-19 testing device for use in this country. These units have the capability to produce results in thirteen minutes or less.
The Corriere Canadese asked the Ministry of Health when exactly would the Province gain access to these game-changing devices. While they could not offer an exact date, a spokesperson from the Ministry did respond saying, "we would expect them to be delivered as quickly as possible. We don't have a moment to spare as cases continue to rise".
Covid-19 is definitely no game, and unfortunately, we are unwilling participants. What is important is that we have access to the right tools to make it through these unprecedented times.