TORONTO - Covid-19 has spread fear and suspicion everywhere. No less an authority than Canada's leading public heath official, Dr Theresa Tam, advised the nation to keep its guard up.
"Test, trace and isolate". That was the only solution o­ ered up as a method to defeat Covid-19 until a few weeks ago. Now attention is being directed to how and when to emerge from self-imposed lockdowns. Is it safe to do so yet? There is no drug, no proven therapy, to help us get well if we contract the virus. So, stay away from those who may be infected. Close your doors and shut our borders are the only measures that seem to work.
Those following the Corriere Canadese's international reporting over the last four months, and our twice-daily dashboard updates, will know why countries are debating how and when to re-start their economies or to open their borders to foreigners – business people, tourists, athletes and entertainers.
These are all potential carriers, and – perhaps a little more to the point – potential killers so to speak. Too harsh? The only data remotely reliable that countries provide to international reporting agencies is that which relates to deaths registered when Covid-19 is either the cause or a factor.
In that case, the charts illustrate the ranking of selected geo-political jurisdictions where Covid-19 has proven most deadly. All other factors being equal, Ontario might well plead with the Federal government to keep the borders with our neighbours firmly sealed shut.
New York State (NYS), arguably our most significant neighbour, with a population barely 34% greater than Ontario's, has the highest death rate per million inhabitants of any jurisdiction in the world – 1,566 – bar none!
We should avoid travelling there or encouraging them to come here. Ontario's rate is 182 deaths per million, less than 12% of New York State's.
Note to readers: the graph shows geo-political jurisdictions which the Corriere has been covering for its readership and includes several sub-national jurisdictions (not all) which have close ties to Ontario.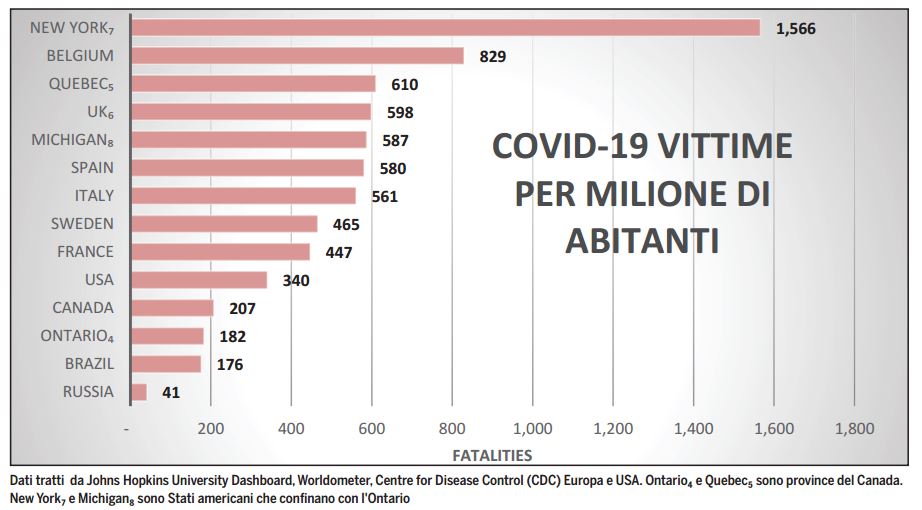 For example, New Jersey (1,375 p/m), Connecticut (1,142 p/m) and Massachusetts (1,061 p/m), rank close behind NYS. However, they have not been included in this graph, because Ontario has relatively little interaction with them.
Michigan, another border state key to our manufacturing and continental trade strategy, ranks 5th in our chart with a fatality rate of 587 per million of population. In North America, the only jurisdiction that is "worse" is our sister-province, Quebec, whose fatality rate of 610 per million, ranks 3 rd . These two neighbours have a death rate that is 3.2 and 3.4 times, respectively, that of Ontario.
Prudence suggests strongly that we avoid "interaction with them" until further and more positive notice.
The only places in the world worse than those North American jurisdictions are Belgium, ranked 2nd, with 829 Covid-19 deaths per million and Britain, whose 598 deaths/million rank it the 4th most lethal country in the world. Other European nations, in the graph are not far behind. It may be a convenient time to follow Dr. Tam's advise.