TORONTO - The construction industry's role in rebuilding the economy holds greater potential with a workforce that embraces diversity. Skilled trades, in particular, are an important driver in the Canadian economy. Change is a good thing. Taking steps towards building a stronger, more diverse and inclusive workforce plays a big role in the economic recovery of the country. The Province of Ontario seems to be leading the charge in that mission.
The Carpenters' District Council of Ontario (CDCO) has just announced Chris Campbell as their new Equity as Diversity representative. In working with industry, municipalities and various community groups, Campbell aims to encourage opportunity for equity, inclusion and diversity within the construction sector.
"The CDCO has a duty to do our part to ensure the future of the construction industry is an inclusive one", said Mike Yorke, President of CDCO. Over the next decade, Ontario's construction workforce will undertake a generational shift.
According to the most recent data by Statistics Canada, about 500,000 people are employed in Ontario's construction sector. The province is expected to lose close to 86,000 workers, particularly in skilled trades, in the next ten years due to retirement. This puts pressure on the construction industry to develop and acquire an ample supply of highly skilled workers.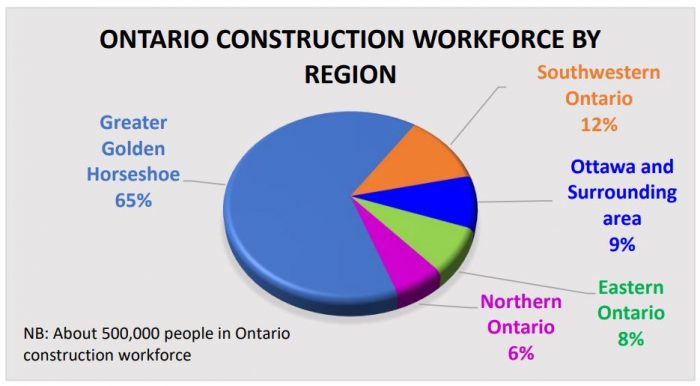 It is through the efforts of people like Chris Campbell together with the CDCO who champion the recruitment and mentorship of the next generation of trade professionals in the sector. Increasing recruitment of underrepresented groups, including women, Indigenous Peoples and new Canadians can lead to a more attractive and diversified workforce.
What does it mean to be diverse? It involves a wide range of human differences, including, but not limited to: gender, gender identity, race, ethnic origin, physical abilities, faith and ethical values.
According to the December 2019 report of Demographics and Diversity, prepared for the Ontario Construction Secretariat, one can better understand the characteristics of the population employed in Ontario's construction industry. For instance, immigrants make up 26% of the total construction labour force, followed by female representation at just 12%. The percentage of females then drops to 3% for on-site occupations and in skilled trades. In the skilled trades alone, visible minorities (people who are non-Caucasian in race or nonwhite in colour) account for ten percent. This demographic does not include Indigenous Peoples, who represent only 3% of the construction labour force.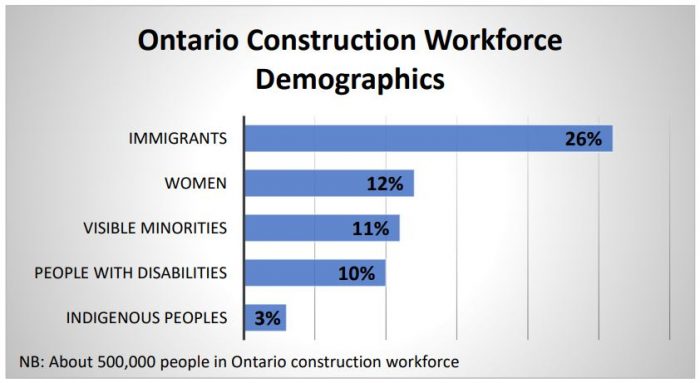 As the workforce aims to become more inclusive of all abilities, roughly 10% of the industry is represented by individuals living with some type of disability. This could include difficulties such as, hearing, walking, learning, etc., that interfere with activities of daily living as a result of physical, mental or health-related issues.
Understandably, there is always room for improvement in attracting more diverse employable candidates both locally and abroad. Building a more robust and diversified workforce can lead to a reduction of employee marginalization and open up opportunities for a larger pool of potential candidates.
As more organizations, like CDCO, promote equity and inclusion, better involvement and empowerment among tradespeople and all employees can improve innovation within the industry. In creating an environment that values and respects individuals for their differences, abilities, talents and skills has great potential for the industry and rebuilding the economy as a whole.