TORONTO - The global case count for Covid-19 is over 6.1 million cases worldwide. Those fortunate to recover, 2.7 million, represent 44% of all coronavirus cases. Those that have proved fatal-371,000-represent a 6% fatality rate.
The Covid-19 pandemic has prompted an economic "shutdown" in several countries. This is a communicable disease and "lockdown" measures were put in place to help slow the spread of this virus. Now, after months of "lockdown", Governments are taking steps to "reopen" their economy.
Citizens around the world who have been impacted by this economic "shutdown" are looking to get back to some sort of normalcy. The warmer weather has prompted people to get outdoors, enjoy some "good times" and mix with others.
For the 6% who have succumbed to coronavirus... there will be no return to normal. It is possible that numbers could be higher, but we have to accept the numbers given to us. This graphic shows the global deaths due to various causes during the fi rst 5 months of 2020 (chart 1).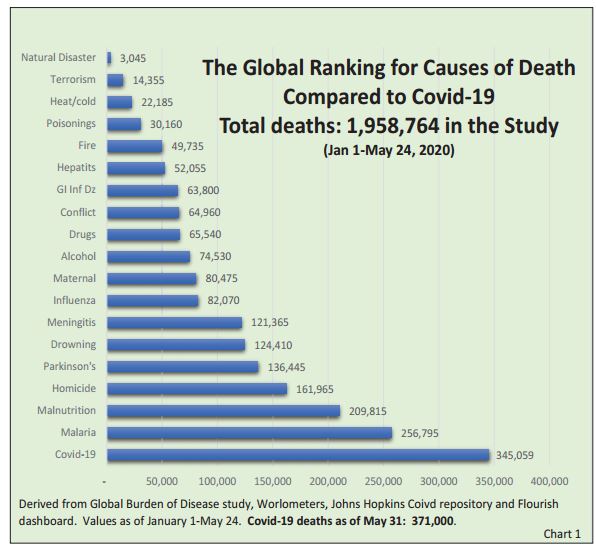 The numbers in chart one are depressing. Here in Canada, we are so close to the US and roughly 10% of the population. Chart 2 illustrates the ranking system for leading causes of death o¡ ered by the Centre for Disease Control and Prevention (CDC) USA.
Skeptic and critics protest "Why shut down the whole economy? It's just a flu". They could point to the illustration in chart 1, the cases of influenza that resulted in death. In these first five months, the "fl u" represents a 4.2% mortality rate among all global deaths thus far.
They would be wrong, On May 24, deaths attributable to Covid-19 represented 17.6% of all global deaths. It's not just your average flu. Covid-19 is a transferrable disease.
We have yet to see what the remainder of the year will bring, will there be a second wave? Chart 2 gives a good picture of the top leading causes of death (2017) in the USA. These are the latest numbers available. The Canadian numbers reflect a similar percentage.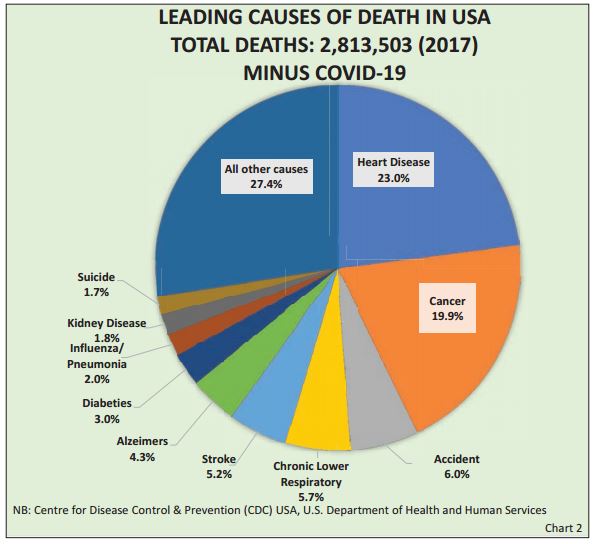 Critics and skeptics will say 43% of deaths come from heart disease and cancer. While there are treatments available, these cannot be cured. Influenza was responsible for 2% of all deaths in the US.
As of May 31, the US has 1.8 million confirmed positive Covid-19 cases. This communicable virus has claimed the lives of 105,575 people. That represents a 5.8% mortality rate among confi rmed positive cases. This does not include the many who died prior to generally accepted testing protocols being implemented.
For example, New York State has become a hot spot only in the last seven weeks, with 378, 951 confirmed positive cases. Of those cases, 29,829 have died. That represents a 7.9% fatality rate. The Canada/US border will remain closed until June 21.
Covid-19 is clearly the number one killer worldwide and it is transferrable. This fact alone calls for emerging from "lockdown" with caution.