TORONTO - After three months of lockdown and quarantine, the weather is great and it's time to get out and socialize. At least, that is what a group of approximately 10,000 Torontonians thought was the best course of action over the weekend.
While the province has rolled out phase one of the "re-opening", many restrictions are still in place. One thing that has not changed, the restriction of mass gatherings…and with good reason.
Ontario's Covid-19 case count is 25,904 as of May 25 (derived from the Ministry of Health's integrated Public Health Reporting System-iPHIS). One only need to look at the daily increase in confirmed positive cases to see that Ontario is not headed in the right direction.
The daily increase of cases was in a downward trend during the week of May 15. Daily increases were in the 300s and were trending downward. May 18 saw an increase of 427 confirmed positive cases.
Five days later, May 23, a large group of individuals decided to gather in a Toronto park to celebrate after months of being "cooped up". A total disregard for physical distancing measures. On that very day, Ontario recorded an increase of 460 confirmed positive Covid-19 cases.
Many of those who gathered believed that they were at little risk of contagion. Covid-19 has proven more serious among seniors and those with underlying medical conditions.
But as the graphs illustrate in this piece, Covid-19 does not discriminate according to age, at least in Ontario. The age range of 30-49 represents the largest group of individuals of the province's total case count (31%). Coming in a close second is the age group of 20-39 at 25% of Ontario's total confi rmed positive cases.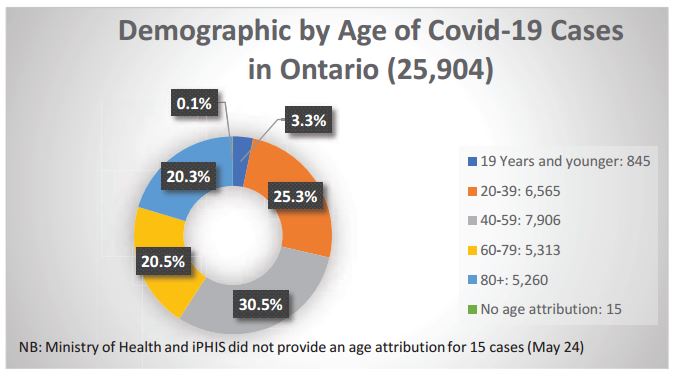 I am in the later age group and happily chose to spend my Saturday afternoon in a quieter part of the city while observing social distancing. My decisions are based on data, statistics – which the Corriere Canadese is happy to share with its readers - and a bit of common sense.
I was doubly concerned because females make up 56% of confirmed positive Covid-19 cases in Ontario, while males account for 43% of the provinces confirmed positive cases. Maybe, in Ontario, one could find evidence that Covid-19 has a slight preference for the gentler gender. Why "tempt the devil"?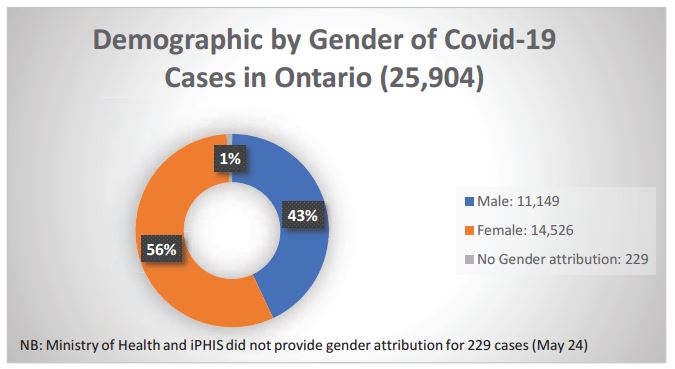 Data illustrated in these charts are based on values provided by the Ministry of Health and the Integrated Public Health Institutes System (iPHIS). As a result, there will be some discrepancies in the demographics values and total case counts.
The province has set a goal to conduct 16,000 Covid-19 tests daily. These past few days Ontario has fallen short of that target. Only 8,170 tests were completed on May 24.
Premier Doug Ford addressed the issue of decreased number of daily tests over the weekend. The Premier announced that all who believe to have the virus, or have been exposed to the virus, will be able to get tested. This is a change from previous testing guidelines that recommended tests only for those who were displaying one or more symptoms.
Data suggests an incubation period of 5-14 days for symptoms to develop once exposed to the virus, it may be worthwhile to keep an eye on the daily increase of cases over the next couple weeks. Then we'll see if there is a change among those who are infected but do not yet know or show symptoms… off to the park we go.