TORONTO - Canadians have been quick to criticize the nation's pace of Covid-19 vaccinations. Since the first vaccine was administered one month ago, the pace has gathered momentum. So much so that Ontario Premier Doug Ford said the Province will be out of vaccines by the end of this week.
After a slow start in the province's vaccine rollout, Ontario has started to increase the pace of inoculations. In the last 24 hours, health officials administered over 15,000 doses.
According to the Covid-19 Vaccination Tracker Canada, as of January 9, Ontario is leading the nation with over 103,260 administered doses since December 14, 2020 (graph 1).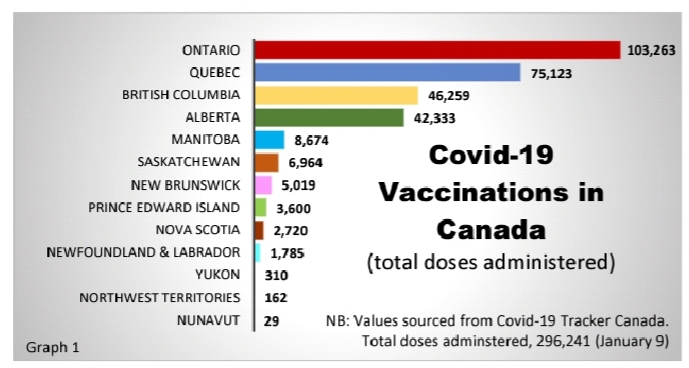 Both the Pfizer-BioNTech and Moderna Covid-19 vaccines require two doses at least three weeks apart for full immunization. To date, 5,880 people have completed their full Covid-19 vac-cinations.
Now the concern is whether the supply can keep up the pace at the 19 vaccination sites across the province. Over the weekend, the University Health Network ran out of supply, even though there were 3,000 people booked to receive their shots.
The supply shortage is not only affecting Toronto area vaccine clinics. The Ottawa Hospital is also experiencing a short-age of vaccines which will affect operations at vaccination clinics until new shipments arrive.
This week, Ontario is expected to receive approximately 80,000 doses of the Pfizer vaccine and about 56,000 of the Moderna vaccine with more to follow in subsequent weeks.
Premier Ford has called on the Federal government for more vaccines. Prime Minister Justin Trudeau said on Friday, he is working with manufacturers to move up deliveries so that more Canadians can get vaccinated sooner, adding, "we're hoping for three million Canadians to be vaccinated by the end of March".
The military commander leading the federal vaccine effort, Major-General Dany Fortin, said Canada is expected to receive six million doses of both vaccines by the end of March.
Not everyone wanting to get a vaccine may stand in line just yet. Only priority groups have that privilege, those include: frontline healthcare workers, long-term care residents and some indigenous populations.
So far, of the 545,250 doses delivered, 0.76% of Canada's population have received at least one dose. According to Our World in Data, which measures how many vaccines administered per 100 people, Canada's rate is at 0.78. There is still room to improve when compared to countries like Italy at 0.98 and the USA at 2.02 (graph 2).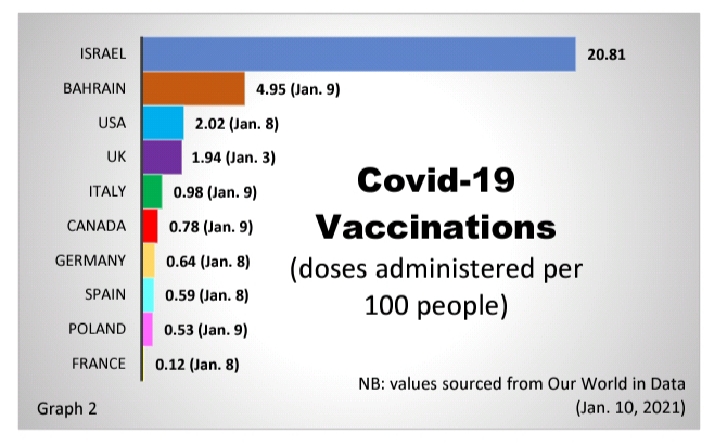 Israel's vaccine strategy seems to be working. At a rate of 20.81, they are leading the world in the number of vaccines administered per population. A smaller geographical area and more centralized population may also work to their advantage.
Canada has some work to do if it hopes to catch up.