TORONTO - The proverb, "there is safety in numbers" definitely does not apply to socializing in a Covid-19 infection environment. The best safety measures we have against contagion is to exercise proper hand hygiene, maintain appropriate physical distance from one another and stay away from large groups of people.
There is no cure, effective treatment nor proven vaccine to battle Covid-19 …yet. A number of vaccine candidates (25 according to the WHO) are in a race to develop an effective vaccine to provide protection against future infections.
There is much debate over the merits and outcomes of vaccinations, in particular, the one for Covid-19. Advocates for either side raise questions regarding the safety and potential side effects of the vaccine; who should be the first to receive it and whether or not it should be mandatory.
The Angus Reid Institute conducted a survey, released August 4, 2020, asking Canadians if they would get inoculated once a vaccine becomes available. Nearly half of those polled (46%) said that they would get the vaccine as soon as it becomes available. Another 32% said they would also get the vaccine but would wait a while. Fourteen percent responded they would not get vaccinated and 8% said they were unsure whether or not they would get the inoculation.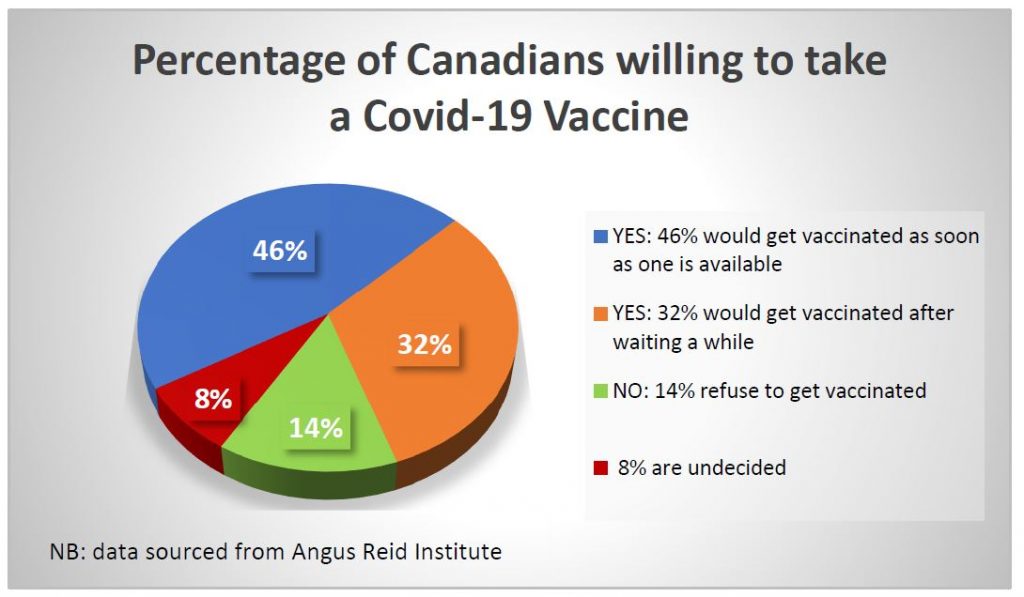 The development phase of the Covid-19 vaccine is moving at an accelerated pace, generating concern over safety and potential side effects. Of those who would wait some time to receive the vaccine, 76% worry about side effects. They are not alone. Even among those who would not hesitate to be immunized, 37%, share that same concern.
Another major point of discussion is whether or not the vaccine should be mandatory and who should be the first to be vaccinated. An overwhelming majority of Canadians polled (76%) believe vaccination should be mandatory for healthcare workers and those employed at or visiting extended care homes.
The fact that over 80% of all Covid-19 fatalities in Canada were seniors living in long-term-care homes may have factored into the respondents' answers.
The risk and severity of infection increases in congregate environments especially around people who are more vulnerable and have pre-existing conditions.
Schools are another environment where students "cohort" and provide an opportunity for the virus to spread. Classrooms have been empty for nearly five months. In-class learning is set resume just weeks away. When a vaccine becomes available, 63% of Canadians feel that it should be mandatory in schools.
Currently, five vaccine candidates are in the third and final phase of clinical trials. Once they pass the final stages, a vaccine could be made available to the public as early as the end of this year.
Whether or not one is willing to be vaccinated, the results in this poll suggest that three quarters of Canadians believe life in the community will not return to normal until most of the population is vaccinated.
Health officials have warned that until such a vaccine is available and administered to the masses, a true "return to normal" may not be possible.