TORONTO - Phase two of Ontario's regional plan to "reopen" the economy starts as early as June 12 - tomorrow - at least for part of the region. The chains of Covid-19 that have caused a great deal of financial pressure or temporary closures will be released soon.
There are conditions (key indicators) that must be met before moving on to step two of normalization. Here are some of the most important: a decrease – absolute, in terms of the previous days - in the rate of infection, greater hospital capacity in the case of the return of the virus, and significant progress in the numbers of tests carried out.
Regions of Ontario not yet approved to enter phase two: the greater Toronto Area (GTA) and regions including Hamilton, Niagara, Windsor/Essex, Haldimand/ Norfolk and Lambton County.
This news does not come as a surprise to many who have been tracking the data provided by the various public health units across Ontario. Here at the Corriere, we have been doing just that.
Ontario reports 30,049 confirmed positive cases (June 8). Chart 1 shows a breakdown of where these cases have occurred. Based on values provided by the PHUs, we see that nearly 87% of all Ontario cases occur in the regions listed above.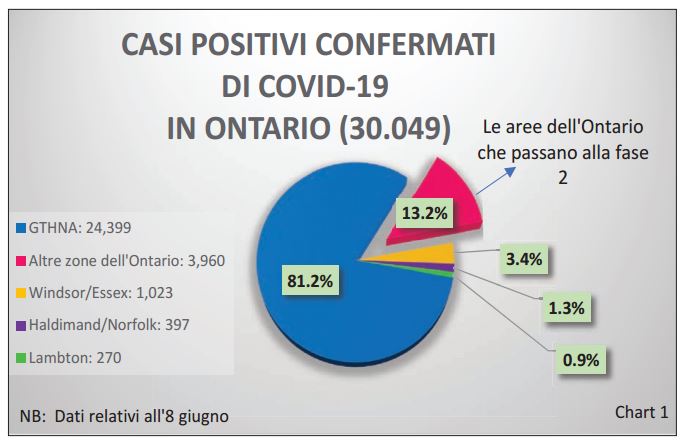 That is a significant number since the Ministry of Ontario reports that GTA public health units account for 67.4% of all confi rmed positive cases in the province. The province is moving forward with the regional "reopening" based on the advice from expert health officials and supporting data.
Chart 2 illustrates the cases that remain active in the Province. Based on data made available through the PHUs, the area of Ontario permitted to enter phase 2 represents 3.1% of all cases that remain active in the province.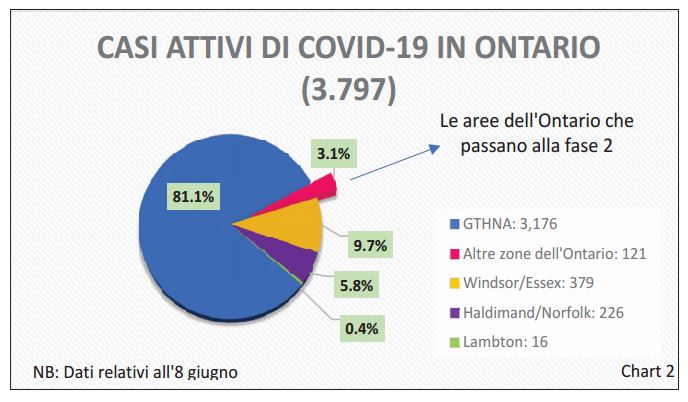 The regions that have not yet met the provincial guidelines for "reopening" represent nearly 97% of all cases that remain active in the province. Ontario will continue to monitor local trends and issue a progress report (every Monday) on PHUs remaining in phase one. Ontario's Minister of Health, Christine Elliot said "If public health indicators improve at a local level, regions will be given the green light to enter stage two that following Friday".
Part of the fundamental response to fight Covid-19 is to track confi rmed positive cases. This data is constantly changing. Tracking such important data can be made even more challenging when there are delays in reporting.
Numbers made available by the Ministry of Ontario appear to have some inconsistencies with those reported by various PHUs and made available to the public. Data made available is updated at various times making it challenging to understand the complexity of the Covid-19 situation.
The message is clear: sort out your logistical issues regarding reporting before permission to restart takes effect.