MANDACH (Switzerland) - Today's recipe, from our "culinary column" in collaboration with APCI Canada, is from Chef Vincenzo Malerba, of Neapolitan origins, founding member of APCI Switzerland. Here is his proposal!
AVOCADO SALMON TARTÀRE
Ingredients:
- 100 gr Norwegian smoked salmon 70 gr avocado tartar
- 50 gr horseradish mousse
- Salt and Pepper To Taste.
- Extra virgin olive oil
- Tomato powder
- Pea puree
- Tapioca chips.
...for the avocado tartàre: 70 gr of Avocado (1/2)
- 2 gr of cumin
- Lime zest + juice
- Salt and Pepper To Taste. 30 grams of spring onion 1⁄2 head of garlic
...for the mousse:
- 5 gr of horseradish
- 50 dl of cream
- 50 gr fresh cheese (Philadelphia) 1⁄2 small red onion
Method: start by finely chopping the avocado to prepare the tartar, then place it on a baking sheet with parchment paper, sized to the desired size, then cover it first with baking paper and then freeze it. For the horseradish mousse, first grate the horseradish in the fresh cheese with some finely chopped onion and then add the mixture obtained to the whipped cream and finally the salmon, chopped like a tartar, seasoned with the rest of the ingredients. Arrange the dish with decorations of crispy tapioca chips and a simple puree of peas to contrast the flavors and enjoy your meal. And... enjoy!
The Chef / Vincenzo, a Neapolitan in Switzerland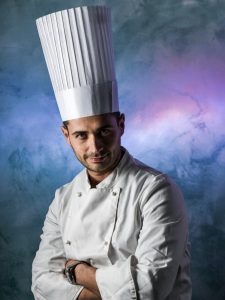 MANDACH (Svizzera) - Experimenting is living, it means curiosity and passion, qualities that are certainly not lacking in Chef Vincenzo Malerba, founding member of APCI Switzerland. Of Neapolitan origins, Chef Vincenzo begins his journey right from his land, presenting a traditional cuisine with the flavors of his land. But experimenting also means growing up, and so new cultures sprout on his dishes. In one of his creations, the one with which he received the Diploma of Professional Chef, he fuses Campania and Switzerland, where ricotta from Campania meets cheese from beyond the Alps, combining it with mushrooms, a particular dish also in consistencies: an unexpected crunchiness and a good balance between sweet and bitter that surprises the palate. Still new techniques and new cultures accompany him on his journey from region to region, from which he captures the traditions, flavors and intrinsic history that each dish brings with it and, as in a sort of Italian mix, Chef Vincenzo balances flavors and textures to create new dishes that still maintain the pleasure of tradition. A journey through flavors, it can be said, that gave Vincenzo the right emotions and sensations to experience in the dishes he still carries with him and in those who are lucky enough to taste them. He is always active in experimentation, perfecting himself in the knowledge of Mediterranean raw materials, browsing and testing new combinations. Sacrifices, tears, reminders, misunderstandings, they too were part of the journey of Chef Vincenzo Malerba but they helped him grow and make his dishes unique, taking care of their presentation to make them unique. He boasts several collaborations with large structures and starred Chefs and currently works at the Gasthaus Hirschen restaurant in Mandach in Switzerland.
In the pics above: Chef Vincenzo Malerba and some of his plates (photo: APCI Canada) 

(Marzio Pelù & Ynot)