TORONTO - Canadian tourism has taken a beating, thanks to the Covid-19 pandemic. Helpless, governments at the Federal and Provincial levels have passed measures requiring people to "stay home". They ordered the temporary closure of all non-essential businesses. These have been the standard approach to isolating the virus and mitigating the negative impacts of Covid-19.
Perhaps more than any other industry, tourism relies on the free movement of people to generate commerce. Where better to begin than with the regional municipality of Niagara Falls to understand the challenges?
Corriere Canadese, was pleased to conduct an exclusive interview with the Mayor of Niagara Falls, Jim Diodati to discuss how Federal/Provincial measures impact Niagara Tourism, and what steps Niagara Falls is taking to entice tourists back.
With Niagara Falls essentially closed down since March, the tourism industry has been severely impacted. What kind of help are you seeking from the Government in order to recover the losses over the past three months?
"Through no fault of our own, we were "shut down", and we understand why. But, with the borders closed and no attractions open, the opportunity to bring in revenue was removed. Even though attractions/restaurants/ casinos have been "shuttered", those businesses still have regular fi xed and operating costs needed to keep them "ready"…even if they are not open to the public. We made a request of $94 million from the [Federal] Government to help recover those operating costs over that last three- month period. Our concern right now is that these costs have still not been addressed."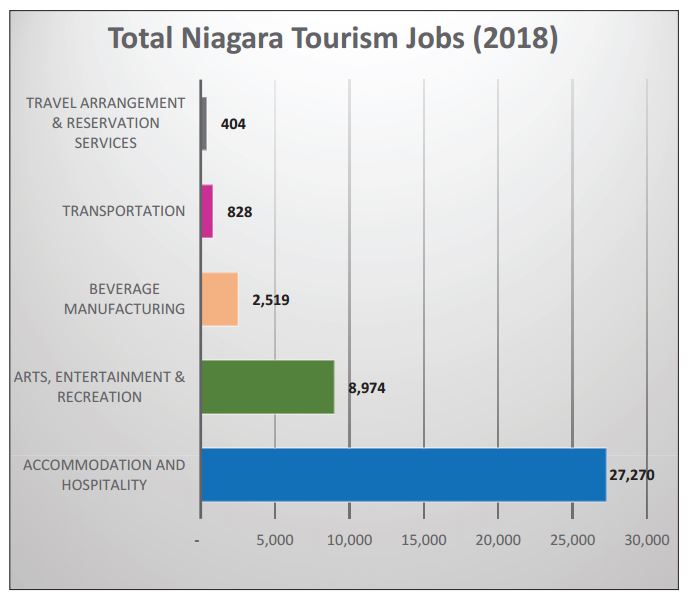 Other industries and locations have suffered. Some might ask what makes your city and your region more deserving of government attention. Everyone wants to survive.
"True. Consider this: Niagara Falls is the #1 leisure destination in all of Canada. While, nationally, tourism is about 10% of our economy, here in Niagara it's that much more important (Niagara tourism represents 14% of the local economy). The number one reason for people to come is to see the Falls. Niagara Falls – the region and the city - oœ ers a "buffet of fun and excitement". Right now, there is "nothing on the buffet". It's closed. Niagara Region attracts 14 million people annually. Of the 40,000 jobs the industry creates, 98% of those employees have been laid off. The casino alone employs 4,500 people. Although hotels are deemed an essential service by the Province and remain open, all the other attractions and restaurants have closed. There are no visitors."
The Province just announced the "State of Emergency" will be extended to the end of June. How do you expect that this will impact tourism in the Region?
"It will be tough. Our most important time of year is the "100 days of summer". The time between June 1 to Labour day is essential for the survival of tourism and all its entrepreneurs to help carry them through the winter. If these 100 days don't materialize, there will be a much bigger issue to deal with. We want to do everything we can to help support these businesses."
What is Niagara doing to help its component municipalities?
"The number one source of revenue in municipalities is property tax. All the municipalities have deferred the payment of property tax, interest and penalties until the end of June. With commercial industry "shut down", we have oœ ered them that same grace period in paying taxes; however, that money needs to come from somewhere. Municipalities are deemed an essential service so we still have to operate and pay our bills. When the tourism industry can't pay their bills, there's a trickle-down effect. In addition, no municipalities are permitted to carry defi cits. All municipalities will be forced to unless something changes. This is why we are asking assistance from the Provincial and Federal Governments to help us continue to carry on with business."
The Federal Government allocated $4.5 million in marketing dollars to your region to help transition to a "new normal". How will Niagara use those funds to entice Canadians back to the Region?
"We have a full recovery "reopening" campaign ready to go. Part of these funds will be used to launch our strategic campaign promoting Niagara Falls as a safe place to stay and play. Once phase two of the Province is given the go ahead, Niagara is ready with full protocols in place. Guests will be able to come and visit safely. Employees in the industry will be able to go to work and be safe."
The Canada/US border remains closed to non-essential travel. What is your take on the border remaining closed?
"Visitors from the US and overseas account for 33% of people that come to Niagara. With the closure of the border, we know we are down by that much. We don't want to a rush to open the border. We understand the situation and we want the border to re-open … eventually. Today, New York State (NYS) is the epicentre of Covid-19 infections in the USA. The fact that we border NYS, a jurisdiction with ten times the infection rate of Ontario, is a concern to Niagara (in fact, 75% of Covid-19 cases in NYS remain active). NYS has about 19.5 million people, Ontario has 14.5 million (Niagara has less than half a million). We look forward to welcoming our American friends and family, we just want them to get better fi rst, then come and visit. I look at it as "short term pain for long term gain". We know this puts us in a tough spot, but we believe if the right amount of money is invested in the right places, we will survive this."
Once the Province gives the "go ahead" in phase two, what measures will Niagara take to create a safe environment for guests to visit?
"Niagara is preparing now with proactive measures ahead of phase two "reopening". We are installing plexiglass, securing masks and gloves, stocking up on sanitizing gels and anti-microbial sprays. To address physical distancing, we have demarcations on the ground so people can track and pay attention to spacing themselves easily. We are working with Niagara companies using new technologies and innovative thinking. We are already using a Niagara based company producing sanitizing equipment. It is installed and we are testing it in some of our attractions. It uses a combination of misting of hydrogen peroxide and UV light to kill germs and bacteria, or viruses like Covid-19. We also commissioned face coverings and "peace of mind" masks that will be readily available at our attractions. There is a whole list of things we have in place so that we are ready to welcome our guests safely. We want to keep our visiting guests and employees who serve our guests protected from each other and for each other. If you don't mind a little self endorsement: In a recent international travel publication (The Discoverer), Niagara Falls was ranked one of the ten safest cities in the world (Niagara Falls ranked ninth. No other Canadian city made the list). We want to maintain that ranking, not only with respect to personal safety but to safety from germs and viruses".