TORONTO - A global pandemic induces fear and feelings of stress and anxiety. Some members of society react di_erently when faced with such a nerve-wracking situation. The emotional impacts of Covid-19 depend on an individual's personal characteristics, experiences, socio-economic status, and the availability of local support services. A healthy state of mind is an essential part of overall wellness.
In other coverage, the Corriere Canadese has highlighted some of the concerns Canadians have over the mental health and well-being of our nation's youth. Now, in a world gripped by Covid-19, matters such as social isolation and financial distress are amplified. Social disadvantages can lead to severe negative impacts, especially for those individuals struggling with mental health issues.
In fact, according to the Centre for Addiction and Mental Health, 70% of mental health problems start during childhood or adolescence. What is more troubling is that suicide is the second leading cause of death among that same age demographic. About four thousand Canadians commit suicide each year. To put that into context, Covid-19 has claimed the lives of 9,190 Canadians so far.
Although suicide impacts all ages and backgrounds in Canada, this is not universally true for everyone. Males, for instance, represent roughly three quarters of all suicides. While our country is very diversified, regrettably, suicide afflicts some elements of our population more than others.
Unfortunately, those who are most susceptible are among the Indigenous peoples. Whereas 8 out of every 100,000 non-Indigenous Canadians are prone to suicide, the rate is twice as high for Métis; three times greater among the First Nations population; and, jumps to nine times the rate among the Inuit. Sociologists are at a loss as to the causes for these disturbing statistics. The higher rates of suicide among Indigenous communities are linked to a variety of factors.
For example, social, economic, and financial instability combined with living in northern, remote locations could affect the way some manage life's pressures. Add to that a global health crisis and the stress could be unbearable for some.
Presumably, if we were to address these disparities, it could result in a reduction of that suicide rate and a corresponding improvement in mental wellbeing. We many need timely mental health strategies and resources to support the community.
There was already evidence of increasing demand for these, prior to Covid-19. For the marginalized population, the pandemic exacerbated life's stresses through further isolation. It intensified the need for these support services and more innovative solutions.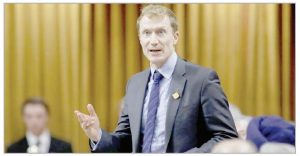 To meet this growing demand, late last month (August 25), the Minister for Indigenous Services, Marc Miller (photo), announced a grant of $82.5 million in mental health and wellness support for Indigenous communities. Is this enough and will it help?
During the pandemic, some mental wellness services have been disrupted in these communities and have shifted to virtual and telehealth access. Seeking help in some remote areas has proved even more of a challenge due to limited internet connectivity. The funding is designed to help indigenous partners develop innovative strategies to improve access to treatment (adapt mental health services and virtual counselling).
It is expected that by improving access to community resources, vulnerable people may develop opportunities to build resilience, enhancing mental wellness.