TORONTO - As of May 17, Ontario reported 22,653 confirmed positive cases of Covid-19. In that context, the province has entered phase one of opening the economy, in a cautious effort to return to a "new normal".
Some tabulations are encouraging; for example, Ontario's numbers also show that 17,360 of cases have been resolved. This represents a 76.6% recovery among confirmed positive cases. Few other jurisdictions in our daily world-wide updates indicate such positivity.
Nonetheless, Covid-19 has sadly claimed the lives of 1,881 people in Ontario. Of that number, 1,388 were residents in Long Term Care Homes (LTCH). It seems that we are collectively just beginning to understand the impact of such data: the deaths of seniors living in LTCH represent 74% of all Covid-19 related deaths in the province (chart 1).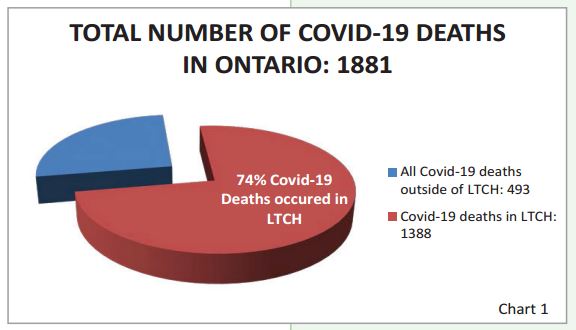 In Ontario, there are 651 LTCH operating under licence granted by the Ministry of Long Term Care (MLTC). Each unit operates its own individual license. But not all license owners (licensees) operate the program or own the buildings that house the seniors under their care. Several have drawn public attention for their handling of the spread of the virus.
The top five owners and/or operators are: Sienna Senior Living, Extendicare, Southbridge (for which Extendicare Assist, a division of Extendicare Canada Inc., oversees the operations of their homes), Chartwell and Schlegel Villages. Combined, these top owners and/or operators are responsible for 148 LTCH. This represents 22.7% of all LTCH operating in Ontario (see chart 2).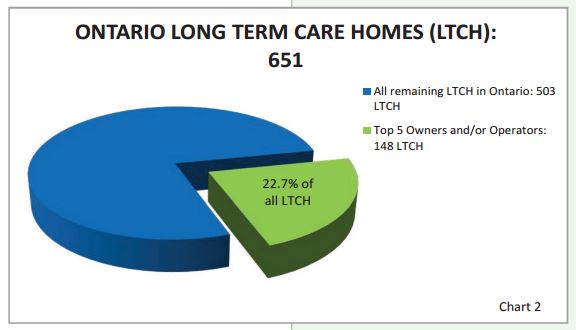 The number is taken from a compilation of their self-declared totals either on their websites or/and from the MLTC. There are [minor] divergences. It is a business. Yet all of these businesses depend to an extent on Provincial government funding. To that extent, one could conclude that they are partners of Government in delivering this part of its Health policy. Based on data that is self-reported by the LTCH to the Ministry of Long Term Care (MLTC) and publicly made available on the province of Ontario's website (May 17), 512 deaths of the 1,388 cited above, occurred in these 148 LTCH (chart 3).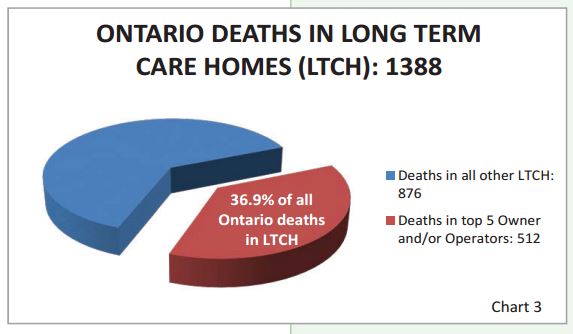 This represents a disconcerting 37% (36.9% to be exact) of all deaths that occurred in LTCH across the province (Chart 2). The locations where they occurred are under the ownership and/or management of these top fi ve operators. This is truly cause for alarm. All LTCH in Ontario are required to follow the guidelines, standards and obligations outlined by the government, including these top fi ve owners and/or operators.
It is not immediately apparent that they co-ordinate all their actions, even if they share in the funding of the associations structured to lobby government.
Last week, Ontario NDP leader Andrea Horwath called for a public inquiry into the government's handling of the crisis in LTCH. In response, Premier Doug Ford said that a "complete review" would be conducted into the province's long term care sector.
That is not the same as an inquiry which might look into cause and consequence.
One thing is certain, neither review nor investigation can possibly occur without examining the corporate structure and corporate culture of the leadership in these organizations.