TORONTO - A "Hot spot" is danger zone in a Covid-19 context. The Province is moving forward with its plan to "restart" the economy. Can it/we a­ ord the risks associated with the plan?
Today's chart(s) offer(s) an update of the Covid-19 "Hotspots" in and around the GTHNA. After you read what we offer by way of update, you can make an informed decision. It has been a constant refrain: to stay safe," Test, Trace and Isolate". The public has an interest in where identified cases are concentrated.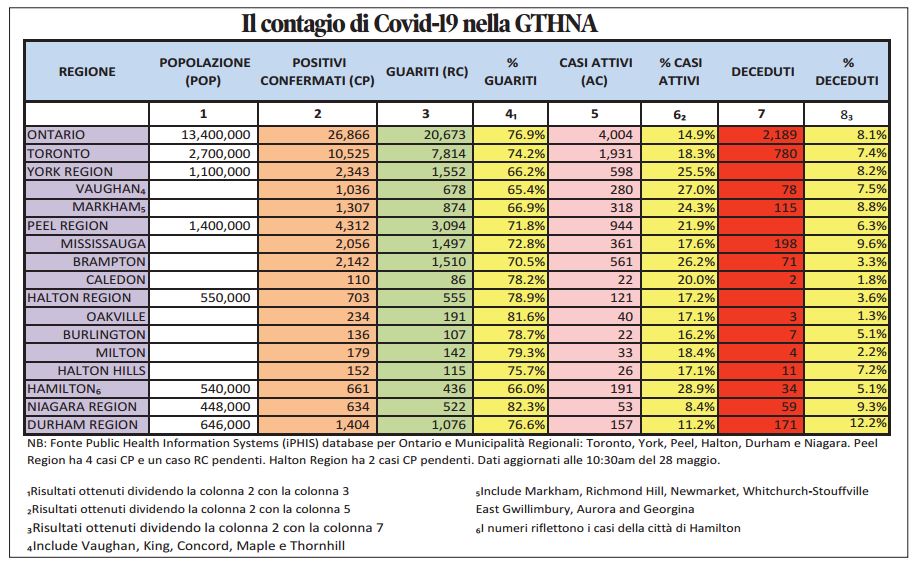 Our chart shows the confirmed positive cases around the GTHNA. These numbers are further brokendown among the various municipalities in the regions. Also, of interest is the outcome of cases between those that recover and those that prove fatal.
It is important to note the cases that still remain active among the regions it the GTHNA. While the province of Ontario continues the "reopening" process, identifying "hotspots" will help indicate which areas are most a­ffected.
For example, even as parts of Peel Region are still seeing an increasing trend in daily new cases, it is a relief to see that nearly 72% of all confirmed positive cases have recovered.
A closer look will show that Mississauga's rate of recovery is nearly 73% among confirmed positive cases. However, the fatality rate – which stands at 9.6% - is not cause for celebration.
Moving down the list to Durham Region, the recovery rate among confirmed positive cases is 76.6%. However, since 11.2% of confirmed cases are still unresolved or active, one hopes for a more positive outcome. The regional municipality balances those positives with the highest fatality rate among all other municipalities - at 12.2%.
At the other end of the inner Golden Horseshoe, in the graphics covering the GTHNA, is the Niagara Region. With a recovery rate of 82.3% among confirmed positive cases, one would think that is one of the safest places in the "Golden Horseshoe". But, with a death rate of 9.3%, ...maybe not.
In York Region, things look a little di­fferent. The rate of recovery is 66.2% among confi rmed positive cases. This represents one of the lowest recovery rates among the GTHNA. While 25.5% of cases still remain active, 193 cases have proved fatal. This represents a fatality rate of 8.2% among confi rmed positive cases in the region.
As of May 28, Ontario has 26,866 confirmed positive cases. The GTHNA (including Niagara Region) represents 77% of the total provincial confirmed positive cases.
A word of caution as we read the data. There are still many discrepancies among regionally reported confirmed positive cases and local public health institutes have still to allocate cases and fi nalities with any defi nitiveness among municipalities.