TORONTO - In a world consumed by all things Covid-19, from the constant case counts to continuously changing (and confusing) restrictions, it can be cause enough to lose one's mind. That, in itself, is worthy of just as much attention. Although not contagious, dementia may soon become the next major health crisis.
The term "dementia" does not refer to one specific disease. It is a term used for a set of symptoms caused by disorders affecting the brain. There are various types, the most common being Alzheimer's.
Symptoms of dementia include the loss of cognitive functioning like thinking, remembering, reasoning and problem-solving, which can interfere with regular daily activities. How serious is this?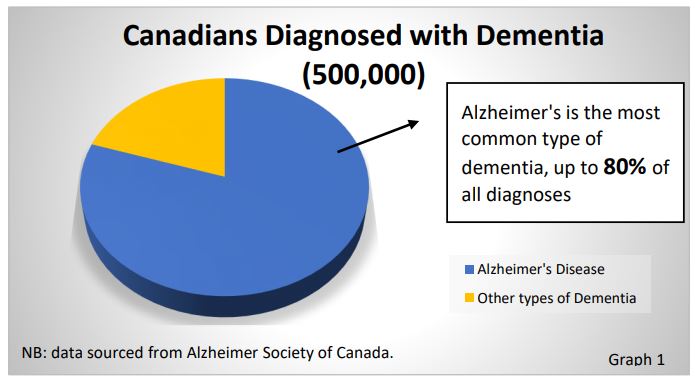 In Canada, as of yesterday, there have been over 287,000 confirmed cases of Covid-19, with an 80% recovery rate. To put this in perspective, over 500,000 Canadians are living with dementia (about 80% of them aged 65+); none have recovered. With a growing and aging population, that number is expected to increase. Each year, approximately 25,000 Canadians are diagnosed with dementia.

According to the Alzheimer Society of Canada, that number is to exceed 912,000 by the year 2030. The estimated annual costs to Canadians to care for those living with dementia total more than $12 billion. However, Canadians are not the only ones who suffer from brain altering disorders.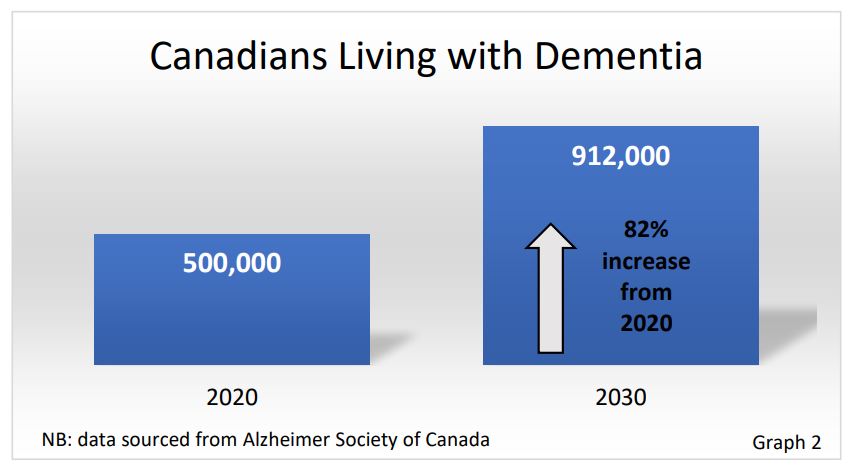 According to the study, Burden of Neurological Disorders across the US, published in JAMA Neurology, dementia is one of the top three neurological disorders in the US. Living with or helping care for someone with dementia can be a difficult experience.
The 2020 report on dementia prevention, intervention, and care, published in the Lancet Commission, identified three new modifiable risk factors: excessive alcohol consumption; traumatic brain injury; and air pollution. In addition to those three, other risk factors include: hypertension, hearing impairment, smoking, obesity, depression, diabetes, poor education, physical inactivity and low social contact, for a total of twelve modifiable risk factors. Worldwide, nearly 40% of dementias are attributable to these twelve factors.
The authors of the report, a group of international medical experts who identified these risk factors suggest one can take steps to prevent or delay the deterioration of the brain. If one knew they were going to trip and fall, it sounds easy to simply say "avoid tripping and you will not fall".
There is no simple advice to follow to avoid developing dementia; however, there are some steps people can take to help keep the brain healthy.
For example, the report suggests lifestyle changes, such as keeping physically active and eating healthy can reduce the risk of diabetes and obesity. One can also minimize the amount of toxins entering the body and brain by quitting smoking and reducing alcohol consumption.
According to the medical experts, these are just some modifications people can make that may reduce the risk of dementia.
In a Covid-19 environment, risk factors such as depression and social isolation may prove a challenge for some to manage, especially in the older population. For instance, earlier in the pandemic, seniors living in long term care homes were cut off from their family and friends when facilities locked their doors to visitors in order to control the spread of the virus.
Now, as cases continue to rise and more restrictions are put in place, it may become more difficult for some to stay physically connected through in-person activity groups, most have been modified or paused to minimize the spread. This could negatively impact those who are vulnerable to social isolation and may lead to deeper feelings of depression, both risk factors for dementia.
Like Covid-19, there still remains much to learn about dementia, such as better treatment and preventive medical care. The control one has over lifestyle choices may potentially make the difference in preserving a healthy mind.