TORONTO - You have heard it before: "nothing in life is free". It typically means that, whenever you accept something that is "free", know that at some point, somewhere, someone will end up paying – even if, it may be some time before we realize that "free" acquisition was too good to be true.
Today, we live in a world where Covid-19 is "free" for everyone. It is not a gift. The consequences may be costly.
If you are one of the unlucky ones to be the recipient of such an undiscriminating virus, you may be paying more than you bargained for.
Governments, everywhere, opted to mitigate the spread of Covid-19 and its costly effects on individual health, healthcare systems and the health of the economy, with a "Test, Trace and Isolate" approach.
For example, Ontario has conducted over three million Covid-19 tests since that start of the pandemic. As of September 5, those tests have identified, 43,161 cases.
To detect as many potential infections as possible, under the Ministry of Health (MOH) testing guidelines, it was mandated that anyone in Ontario seeking a Covid-19 test, could undergo testing at no cost. Great.
Have you ever stopped and wondered how much a Covid-19 test costs and who is paying for it? The answer may be more elusive than first imagined.
Here is how a spokesperson from the MOH replied in an email: "Testing for COVID-19 in Ontario is primarily done using the COVID-19 Clinical Lab network that includes public health, hospital, and community labs.
Labs in this network are funded through a variety of funding models, including global funding (for public health and hospital labs) and volume funding (community labs).
Given the range of funding models, the ministry is not able to provide information on overall costs for testing this time." However, the spokesperson did offer that for planning purposes, the MOH uses an average cost of $47.50 per test. This cost only includes the swab kit and processing fee. It is not inclusive of other input costs such as assessment, swabbing, PPE, etc.
Nonetheless, calculating the fee using this average, so far, over three million tests in Ontario have cost more than $143 million. Remember, though, the total price does not include all other input fees.
For example, one Ontario healthcare unit allocates a charge of $496 for a single Covid-19 test. What are the factors that inflate the cost to ten times that of the MOH average, an inflation rate of 1000%.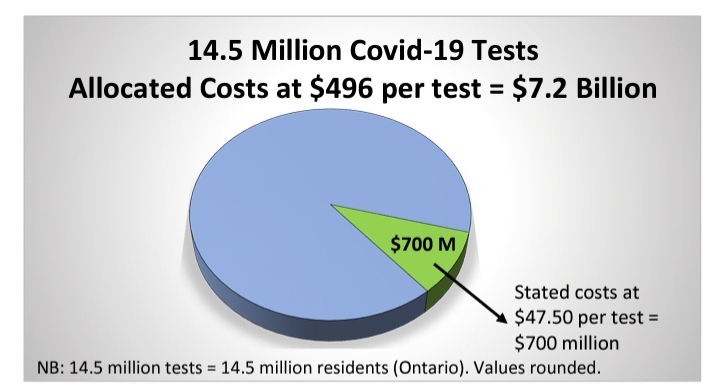 Thankfully, this charge is not billed directly to the patient, but rather to the MOH and covered under any one of the above-mentioned funding programs. But where does that money come from and who will end up paying for it in the end?
Moreover, the province is committed to increase testing capacity above the thirty thousand per day target. If that rate were applied to all the tests completed in the province so far, the total cost of testing in Ontario, currently at $1.5 billion, would climb to over seven billion dollars, if all of Ontario's 14.5 million residents are tested.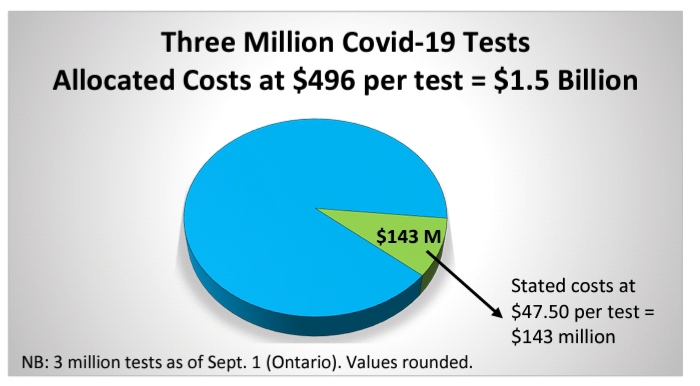 This is just a fraction of the province's Covid-19 relief spending, projected to total $30 billion by the end of this fiscal year.