TORONTO - Lackadaisical data gathering and gentle treatment by the courts "favour" killers behind the wheel. Meanwhile, when families like the Neville-Lake and now the Ciasullo are mowed down by miscreants like Marco Muzzo and Brady Robertson the public professes outrage.
In Canada, impaired driving is the leading criminal cause of death and injury. On average, up to four Canadians are killed every day in a motor vehicle crash involving alcohol or drugs. A further 175 Canadians are injured every day when an impaired driver decides to "get behind the wheel". In one way or another, every year, it is estimated that 65,000 Canadians are impacted by the actions of impaired drivers, nation wide.
All of this is avoidable, says Mothers against Drunk Driving (MADD), an organization advocating for a culture-change in drinking and driving habits. Are current Federal/provincial impaired-driving laws an effective deterrent for the millions of individuals that still make the reckless decision to drive while impaired? Yet centralized statistics are dated at best. The picture does not get better. When data on the type of intoxicating substance started to become available in 2009, the number of drug-impaired driving incidents was about 1500. By 2015, the number had nearly doubled to approximately 3,000 incidents.
A report released by MADD Canada in 2019 offers the most recent statistics available (from 2014) for the total number of fatal road crashes in Canada (2,297).
The report indicates that 55% per of all road deaths had tested positive for the presence of alcohol and/or drugs (Chart 1).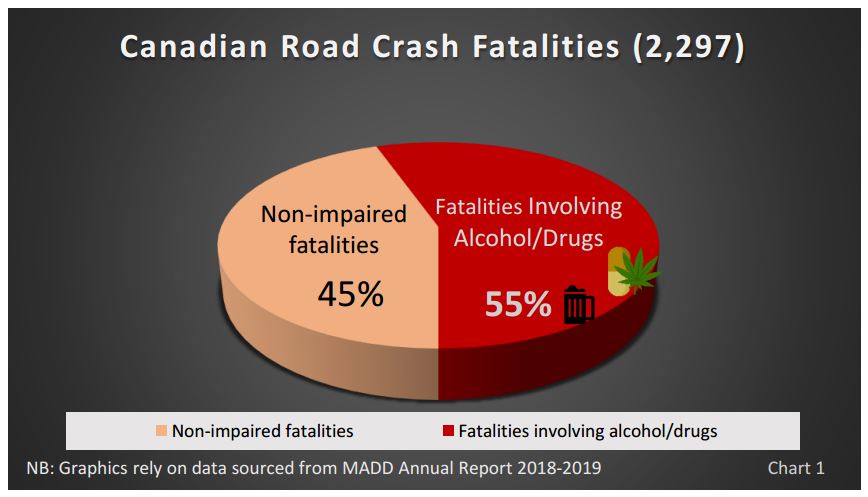 It should be noted that this data, sourced from the Traffic Injury Research Foundation (TIRF), represents a subset of all road fatalities. Also, more recent data refl ecting experiences post-legalization of cannabis (2018) has not been centrally collected, making all available data for impaired drivers under the influence of alcohol/drugs five years out of date.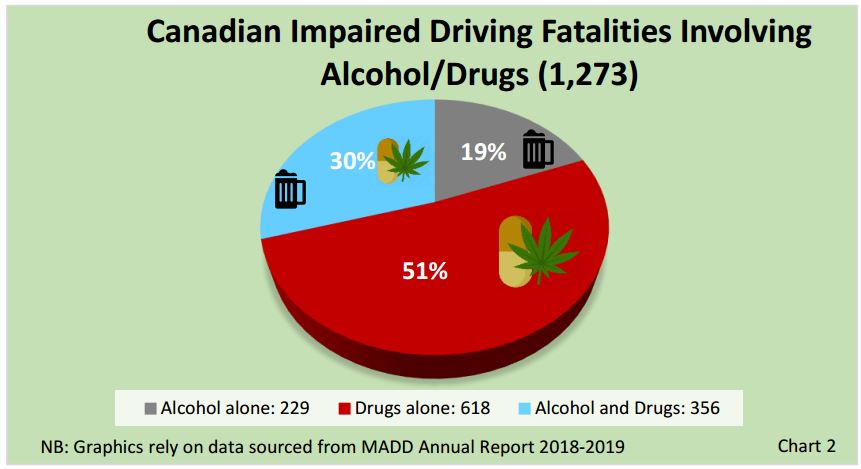 Under the new Federal impaired driving laws (2018), police now have authority to conduct mandatory alcohol screening on every lawfully stopped driver. Moreover, new roadside drug detection tools make it possible to apprehend offenders and the penalties, upon conviction, could deliver the message that driving under the influence is unacceptable.
Andrew Murie, CEO of MADD Canada, said that's not enough to deter [potential] impaired drivers. He said, "there are …tough laws on the books. Impaired driving causing death is a life sentence, but it's only been given out once in Canada. That's the problem." MADD would like to see sentences that refl ect the damages caused to families and loved ones of victims. Tougher sentences may not be a deterrent for people to refrain from driving impaired. For those impaired drivers who have been convicted of causing death, it may eliminate the opportunity for them to re-offend.