TORONTO - This global pandemic is changing the way we do business and how we interact socially. Information exchange is at the heart of both. As we adapt increasingly to the practice of "physically distancing" from one another to minimize the spread of the virus, people are becoming more reliant on their mobile devices to "stay connected".
Today, those mobile devices are more than just telephones facilitating conversations with one another. We use them to communicate through various ways by sending messages, pictures, videos, researching data and conducting official and banking transactions.
There is a dollar cost to staying this connected. It may affect competitiveness as well. That cost varies greatly from country to country. The technology and its availability can influence International politics and economics. Think about the Huawei corporation and 5G network dominating our relations with China.
The attached graphs show the range in cost per one gigabyte (GB) of data across a number of countries and continental regions worldwide. What is a GB? It is a unit used to measure digital storage. For instance, 1 GB of data will allow you to send or receive about 1,000 emails and browse the internet for about 12 hours per month, stream 200 songs online or watch 2 hours of online videos.
For those of us who grew up with books (something more tangible), Think of this example: there are approximately 10 million characters in the Webster's Collegiate Dictionary typed over 1600 pages; one hundred such dictionaries would fill one GB of data storage.
Keeping this in mind, the charts compare the cost per GB of data, in Canadian dollars (CAD), in countries ranging from the cheapest rate to the most expensive. Figures for this graph are derived from Cable.co.uk, a UK based price comparison website. They sourced rates and analysed data from over 5,000 mobile data plans in 228 countries.
On the basis of calculating the cheapest average cost per GB in each country, India tops the list with the cheapest rate, $0.13/GB. The year previously, 2019, it was of $0.36/GB.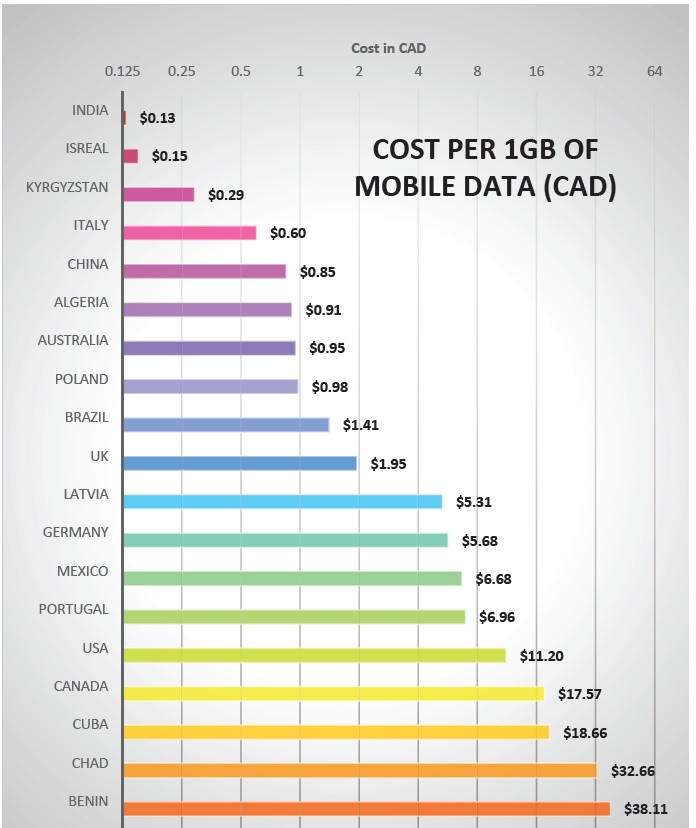 In 2016, one of the largest telecom companies in India, Reliance Jio, offered free trial periods and plans at less that $1/month. This created intense market competition among other providers thereby driving the overall cost down. This is not the only cost factor influencing price points.
Countries with existing infrastructure make it possible for providers to offer greater amounts of data at lower rates. This is where Canadians should take note.
Among the lowest costs for data worldwide, Italy ranks fourth. At an average cost of just $0.60/GB, Italy boasts the cheapest rate of all European countries. The lower data pricing phenomenon in Italy, and other western European countries, can be explained by highly established infrastructure and data plans that have escalated far beyond the 1-10 GB/month medium.
In contrast, countries with minimal or no infrastructure rely on alternative connections like satellite, which are more costly. Countries that use less data and offer lower data limits often have a higher average cost per GB. This is evident in the countries like Malawi and Benin. In fact, countries with the highest costs are in the Sub-Saharan African region where the market competition is lower.
Certain regions rely on mobile data as a primary source of internet. A good example is in Kyrgyzstan where a high demand leads to an increase in competing providers, thereby lowering the cost to the customer. Given the country's minimal infrastructure and large rural population, researchers suggest that the low rates are due impart to the heavy reliance on the internet.
This seems to run counter to logic. A look at the graphs suggests that the relatively wealthier nations have more expensive costs per GB. If you can afford to pay more, you usually end up doing just that.
The high costs for data in Canada, $17.59/GB, can be explained by the high market concentration. In Canada, there are three major national networks, Bell, Rogers, and Telus. According to the Canadian Radio-Television and Telecommunications Commission (CRTC), in 2018, these top three networks collectively had over 82% of all wireless service revenues.
The striking range in cost/GB between the cheapest average rate and the highest is over 300%. In theory, data costs drop as networks grow in a country. Unless there is heavy market manipulation.
As technology advances and improves across the world where will that leave Canadians?