Improvvisa eruzione di un vulcano: strage di turisti in Nuova Zelanda
Improvvisa eruzione di un vulcano: strage di turisti in Nuova Zelanda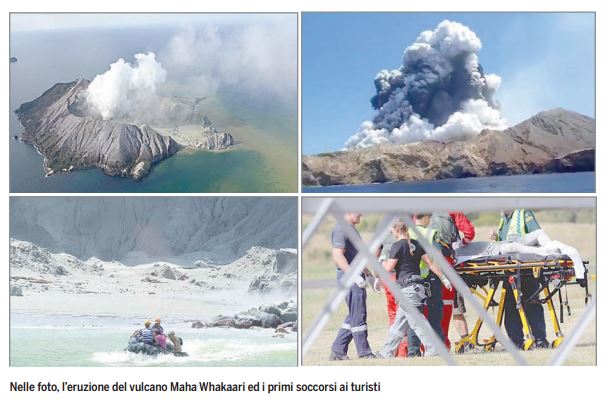 WELLINGTON – In talune occasioni il buon senso andrebbe adoperato davvero con maggiore oculatezza. Specie quando ci si trova dinanzi ad un vero e proprio 'mostro della natura', ossia un vulcano attivo.
È quanto purtroppo non è accaduto ieri, in Nuova Zelanda, dove l'improvvisa eruzione del vulcano Maha Whakaari – un potentissimo stratovulcano, caratterizzato da periodiche eruzioni di tipo esplosivo – ha fatto strage di turisti che erano giunti (a bordo di una nave da crociera, ndr) sull'isola di White Island.
Una cinquantina di essi si erano addirittura avventurati nel fondo del cratere, all'interno del vulcano. Pura follia, associata ad una incredibile imprudenza da parte di coloro i quali che, essendo a conoscenza dell'enorme pericolosità rappresentata dal vulcano, avrebbero dovuto impedire a turisti ed escursionisti un azzardo così evidente e rischioso.
In pieno giorno – dopo un breve e squassante tremore, accompagnato da un boato – il vulcano è esploso, 'sparando' enormi pietre e lapilli che hanno ucciso almeno 5 turisti e ferito o ustionato altri 18, mentre un'altra dozzina (quando il Corriere Canadese è andato in stampa) mancavano ancora all'appello.
L'agenzia scientifica GeoNet ha emesso un allarme di livello 4 per il vulcano Maha Whakaari, che conferma una "grande eruzione vulcanica", considerato che la scala va da zero a cinque. I ricercatori – nelle scorse settimane – avevano registrato movimenti vulcanici moderati sull'isola, con un contemporaneo aumento della fuoriuscita di gas di zolfo dalle sue profondità.
"In base alle informazioni in nostro possesso" ha dichiarato il vice-commissario della polizia di Wellington, John Tims, "non crediamo che ci siano più sopravvissuti sull'isola".
Tims ha confermato che ci sono 18 persone ricoverate, tra cui alcune con gravi ferite ed ustioni. Tims ha aggiunto che non ci sono più contatti con un gruppo di almeno 10 persone rimaste sull'isola dopo l'eruzione, rivelando "non siamo sicuri che siano ancora in vita".
Sul luogo è arrivata anche una nave della marina militare neozelandese, che farà alzare in volo droni ed altri strumenti di ricognizione per valutare la situazione nell'isola. La situazione è stata considerata al momento troppo pericolosa per far avvicinare alle pendici del vulcano le squadre dei soccorritori.
Per quanto riguarda la nazionalità delle vittime, la polizia ritiene che vi siano sia cittadini neozelandesi, che turisti stranieri, tra i quali "un numero imprecisato di passeggeri della nave da crociera Ovation of the Seas".
La polizia ha ora bloccato ogni via d'accesso al vulcano – visitato, secondo le stime, da decine di migliaia di turisti ogni anno – e l'agenzia meteorologica MetService ha allertato l'aeronautica ad evitare il sorvolo della zona da parte di aerei o elicotteri civili.
L'ultima grande eruzione del vulcano Maha Whakaari risaliva al 2016.