Altri quattro anni di Trump, con esiti nefasti
Altri quattro anni di Trump, con esiti nefasti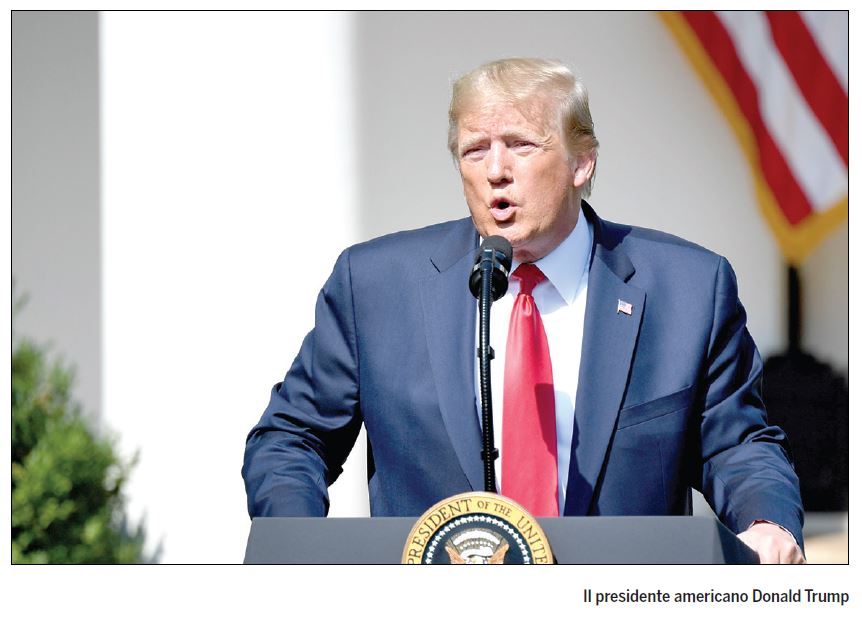 TORONTO – Allacciamoci le cinture e prepariamoci al peggio. Donald Trump vincerà anche le presidenziale del 2020 e gli esiti per il Canada – così come abbiamo potuto certificare in questi anni – saranno nefasti per il nostro Paese.
Almeno la pensa in questo modo la metà del campione intervistato da Angus Reid, che ha voluto passare al vaglio come i nostri concittadini valutano l'operato di The Donald, alla luce anche delle prospettive future in vista del voto del prossimo anno.
Mentre gli aspiranti candidati democratici si stanno dando battaglia, nel fronte repubblicano l'inquilino della Casa Bianca si gode lo scontro fratricida e si prepara all'appuntamento elettorale.
Secondo Angus Reid, il 50 per cento dei canadesi pensa che Trump vincerà le prossime presidenziali, con un 13 per cento che si dice certo del trionfo del tycoon newyorchese e il restante 37 che ritiene questo esito abbastanza probabile.
Il resto dell'elettorato, forse per scaramanzia, pensa che un candidato democratico forte e preparato potrà scalzare il magnate del mattone prestato alla politica. Ma in caso di altri quattro anni di Trump, quali saranno le conseguenze concrete per il Canada?
Il pessimismo a Nord del confine emerge con tutta la sua dirompenza, visto anche il giudizio generale sull'amministrazione Trump.
Il 69 per cento degli intervistati dà un voto nettamente negativo su quanto fatto dal presidente americano in carica, mentre il 72 per cento del campione si dice pessimista su quanto farà nel prossimo anno e mezzo che chiuderà il suo primo mandato presidenziale.
Il 67 per cento dei canadesi intervistati, inoltre, ritiene che un secondo mandato avrà un impatto negativo per il Canada, il 24 per cento pensa che non ci sarebbero conseguenze particolari mentre solo l'8 per cento dichiara che un'eventuale rielezione porterà dei benefici per il nostro Paese.
Secondo Angus Reid, su base regionale sono il Quebec, la British Columbia e la Nova Scotia le province che temono maggiormente altri quattro anni di Trump.
Al contrario, gli abitanti dell'Alberta sono quelli che nutrono meno timori circa una sua seconda vittoria alle presidenziali del prossimo anno. L'istituto demoscopico ha poi indagato sul grado di popolarità del presidente sulla base dell'appartenenza partitica degli intervistati.
Il 93 per cento degli elettori dell'Ndp dà un giudizio nettamente negativo dell'attuale inquilino della Casa Bianca, promosso solamente dal 3 per cento dei neodemocratici canadesi. Stesso discorso per quanto riguarda gli elettori liberali. In questo caso a bocciare The Donald è l'84 per cento dell'elettorato grit, mentre soltanto il 6 per cento dei liberali dà un giudizio positivo.
Si spacca invece l'elettorato conservatore del nostro Paese. In questo caso la maggioranza – il 42 per cento – apprezza l'operato del presidente americano, mentre il 35 per cento degli intervistati di fede conservatrice ha un parere negativo della performance di Trump.
Ma anche qui emergono delle contraddizioni. Di fronte alla prospettiva di rielezione, il 41 per cento degli elettori conservatori ritiene che ci saranno delle conseguenze negative per il Canada, il 39 per cento dice che non ci sarà un impatto significativo e solo il 21 per cento pensa che ci saranno dei benefici per il nostro Paese. Insomma, allacciamoci le cinture e prepariamoci all'impatto.