TORONTO - More and more, it seems that there is an undercurrent of reaction against the incursions of the wokist ideology seeping its way into the society we had come to know. No-one can point to any specific, tangible document outlining its credo much less any accrued benefits previously unavailable before advocates of wokism emerged as the self-proclaimed conscience of contemporary society.
Reputable writers, like Rex Murphy, for the National Post and Sue Anne Levy, formerly of Sun Media, have begun to openly challenge some of the "excesses" of those advocates. Their zealotry comes close to legitimizing censorship, restrictions on freedom of expressions and critical thinking.
It is less and less clear on what tenets their "belief system" is based other than their habitual reference to the Human Rights Code, which they appear to have "weaponized" to suit their ends. Unfortunately, their tactics are eroding the very foundations of the democratic principles of and judicial impartiality we have struggled to make hallmarks of our society and its culture.
One of those principles is to give every person the right to face his/her accuser, coupled with right to have her/his reputation remain inviolate until a judgement "in open Court" determines otherwise. Imagine the damage when our "institutions" decide to behave differently.
For more than four months, the Ontario College of Teachers (OCT) has posted on its website that one of its members, a TCDSB trustee and certified teacher, is subject to Disciplinary Hearing and consequences, subsequent to an investigation for "professional misconduct".
It is alleged he (a) "abused a student [...] verbally …[and] (b) abused said student "psychologically or emotionally". His offense, under Regulation 437/97, apparently consisted in "rolling his eyes, sighing, frowning, snickering, using a hostile and/or sarcastic tone…" and saying, "you've been brainwashed by liberals".
Even if true and unacceptable according to the only criterion cited, Ont. Reg 437/97 "…having regard to all the circumstances, would reasonably be regarded by members… as unprofessional", this could not have happened in a classroom. The trustee in question, identified as Michael Del Grande (in the pic below), is NOT, nor has he ever been, a classroom teacher.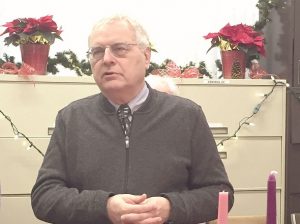 All this apparently happened in the context of School Board meeting on Catholic values, where debate is covered by qualified privilege (say what you want without fear of reprisal) in a forum for publicly elected trustees.
The complainants who filed the allegations were a member in the audience (who is himself an active teacher, but unidentified publicly), and the "student". The "charges" are based on their interpretations of the applicability of the Human Rights Code, notwithstanding its own section 19(1) which essentially says it has no jurisdiction over the religious component of Catholic schools in Ontario.
The Human Rights Tribunal forbids the publication of data that can identify minors in such circumstances. Corriere called and emailed OCT, its legal representatives, Mr. Del Grande, and the father of "the student", is still researching the identity of the anonymous other accuser, we think we are close. Del Grande has hired a lawyer; he can speak for himself.
Neither the Registrar of the OCT, Derek Haime, nor the Solicitor Caroline Zayid, have developed the courtesy of returning calls and/or emails (we'll apologize if they do).
The father of the "student" claims that neither he nor the child (now a university student) know anything about the investigation, nor that they had any part in it.
Unless, the parent disavows this under oath in cross examination, the inescapable conclusion is that Mr. Haime's organization is a willing partner in a manipulated, gross exercise to defame.
TO READ PREVIOUS COMMENTS: https://www.corriere.ca/english-articles