TORONTO - We're in a new era of human behaviour and ethical codes. Most of us want to "go about our business" earn a living, provide for our children, enjoy our families and live happily ever after. I know… it is idyllic and naïve.
Some of the institutions we laboured over the decades and centuries to establish and fine tune seem to be developing fissures. Imagine if you are a parent whose boys are enrolled at iconic SMC private school. Are they safe? What are they learning?
No one should launch a witch hunt. This is not a case where people should "throw the baby out with the bathwater". With respect to the victims and their families, the guilty parties need to be severely dealt with and the supervisory staff purged; but the institution still has much to commend it. We should not be drawn into mass hysteria.
The Corriere Canadese has been frank, honest and transparent about SMC, as it has been about the Toronto Catholic District School Board (TCDSB) - its trustees, its staff and some of its critics. In this regard, radical activists from the LGBTQ2+ community have launched what can only be described as an all-out witch hunt to eradicate the Catholic ethic from Ontario's School system.
The Catholic code is an all-encompassing ideology and moral construct that also deals with human sexuality some people find too confining. That's ok. It's not new. They should go into a different environment.
Instead, they heap abuse, vilification and threats against anyone whom they target as standing in the way of their new world order. Their moral outrage is based on a "new religion" best described by Carl F. Stychin in the McGill Law Journal under the title Same- Sex Sexualities and the Globalization of Human Rights Discourse, 2004.
"Traditional religious values" have, in their view, become unacceptable because the sexual practices espoused by Catholic values are deemed bigoted and homophobic. The new standard is their Human Rights Code, in my respectful opinion vastly inferior in breadth and depth to the Catholic "code" except that the HRC is enforced by the State police and whoever motivates it with complaints of alleged grievances.
That complaints process has become a big industry for boutique Law Firms like Rubin Thomlinson and BLG. It has become a spiked baseball bat for moralizing thugs like Nicole Richard and Paolo De Buono, LBGTQ2+ radical activists whose objective is to tear down Catholic schools and anyone who stands in the way.
She and De Buono appear to specialize in the guerrilla tactic of destroying the economic supports of anyone dares offer an opinion that might differ from theirs… how democratic!
De Buono has taken to (I) threatening the Cardinal with ejection from his Catholic school classroom if as bishop he insists on upholding the Catholic catechism, (II) urging parents to take their children to a "safer" school board – the public one, (III) imploring Catholic Mass-goers to refrain from making contributions to the Church, (IV) threatening and launching HRC complaints against trustees whom he accuses of homophobia, (V) writing the Minister to hold the TCDSB in contempt for allowing the International languages program, (VI) intimidating advertisers in the Corriere Canadese unless they pull their advertising, (VII) cause the Ontario College of Teachers to explore the possibility of pulling the teaching certificate of one Michael Del Grande for language used in debate.
Who is this person, you ask? And how did he get his license to do the above and more? Here is how the Committee to Expose Dishonest and Incompetent Judges, Attorneys and Public Officials (CEDIJAPA) defined him: Attorney Paolo De Buono of Ontario, CAN: ethical elf.
According to the Law Society of Ontario, a disciplinary panel found Paolo De Buono…to have engaged in professional misconduct for: failing to deliver a client file to which his client was entitled, and failing to co-operate with a Law Society.
By Decision and Order dated December 7, 2010 the hearing panel ordered as follows: (1) The Lawyer is reprimanded. (2) The Lawyer shall pay costs to the Law Society in the amount of $2000 within six months of the date of this Order...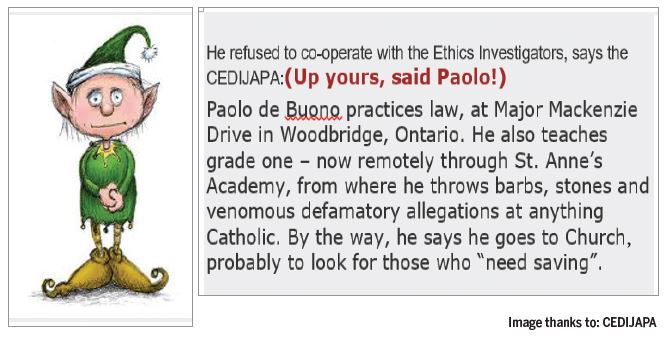 TO READ PREVIOUS COMMENTS: https://www.corriere.ca/english-articles